Analysing your electricity usage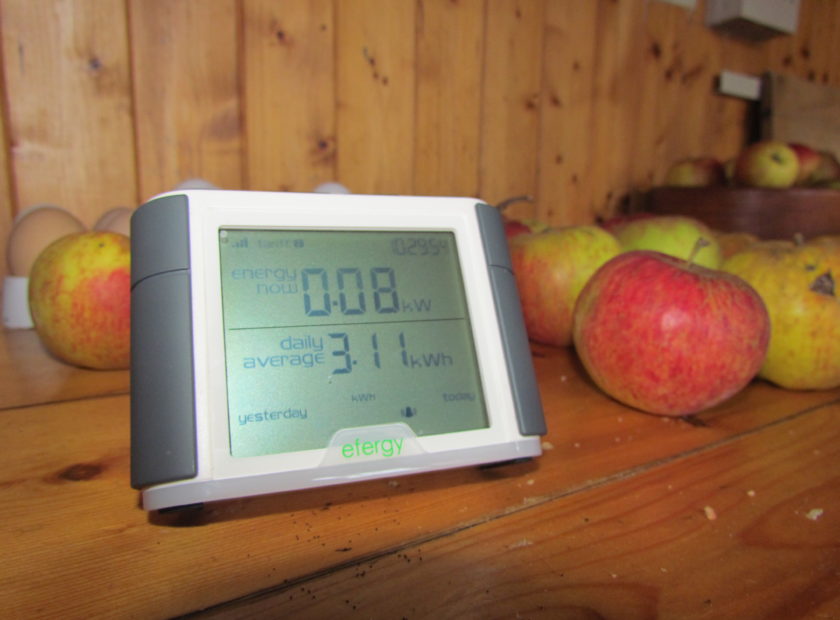 I have a confession to make: I have, of late, been wasting electricity, switching things on and off without necessarily using them. What?! Have you gone mad?! No, no, I am quite sane, at least by my usual standards. It is for the greater good, you see – It is all in the name of research! (No animals were harmed in the process.)
I have been loaned a nifty little energy monitor to help me identify ways of saving energy – to see what the biggest energy guzzlers in my house are, and which seemingly benign electrical goods can quietly sap energy away without you even noticing. Below I have made a rough estimate of the Kilowatts of some of the appliances in my house, based on the energy monitor readings. (See end of blog.) Some appliances use a steady flow of energy but for those with a fluctuating wattage I have guessed an average approximation within the range picked up by the monitor. This is therefore only a rough guide to give me some idea of the electrical power of these products, bearing in mind that different makes and models will vary in power and energy usage.
A few things you need to know about power and energy:
Kilowatts (kW) refer to the power of an electrical appliance. (1kW = 1000 Watts, so a 60W light bulb could also be called a 0.06kW light bulb!)
A Kilowatt-hour (kWh) is a unit of energy. If I use a constant rate of 1 Kilowatt of power over the course of one hour, I will have used 1 Kilowatt-hour of energy. kWh = kW x h

Electric utilities companies measure your electricity usage in Kilowatt-hours (displayed on your electric meter) to work out your bill.
Because we use different appliances for varying amounts of time, something that is low-power does not necessarily use less energy than a higher-power appliance. In other words…
How much energy an appliance uses depends both on the power of the appliance and how long it is used.
My current electricity consumption charge is approximately 12.5p/kWh plus standing charge. I can safely say that we save over £40/year just by keeping the oven, TV and computer off at the plug, assuming they are lying idle for 18hrs/day. What savings could be made in your house?
With the help of the energy monitor, I've managed to figure out a few ways in which I could save electricity and money:
Defrost in advance. I like to keep sliced bread in the freezer to keep it fresh. Trouble is, I like it not be frozen when I eat it. I take a shortcut and put it under the grill for about a minute and a half to defrost. If I did this every day for a year, I would spend a total of 9.125 hours defrosting bread! Multiply that by the power the grill uses (1.89kW), and that comes to 17.25kWh of energy per year! I could cut that altogether by taking food out of the freezer the night before I use it.
Switch the oven off at the plug. My oven display alone uses a deceptively small 0.01kW of power, but if I left it on 24 hours/day, 365 days/year, that would come to a whopping 87.6kWh/year! That's even worse than using the grill to defrost my bread! (NB. Some of that time, the oven socket needs to be on to cook, but most of the above sum is just wasted electricity.)
Boil as little as needed. In my case, boiling a full kettle uses twice as much energy as boiling up to the minimum marker.
Dry clothes in the open air where possible. Using my dryer for two hours would use about 3.16kWh of energy, just for one heavy wash-load. The energy of the sun and the wind, on the on the other hand, is available to use at no extra cost!
Ditch the hair appliances and let your hair dry naturally.
Switch off the TV screen when pausing shows for a tea-break. Turns out the screen itself is the biggest consumer of energy when it comes to telly time in my house. Always switch off at the plug when you're done.
Use sleep mode! Best to switch the computer off when not in use but when that's impractical, sleep mode is brilliant as it only takes a couple of seconds to get my computer back to where I left it. If I were to leave it for a total of two hours a day in sleep mode instead of leaving it on full power whenever I leave the room, that's a saving of 0.10kWh, just in a single day!
Set a TV and computer time limit. Same principle applies to anything that needs to be charged, eg. phones and tablets.
Household chores: I save loads of energy by neglecting the vacuuming and rarely ironing anything… I wouldn't recommend it though…
Want to try one out? The energy monitor also records daily and monthly energy use and displays a daily average so you can compare energy use and cost over time and see how you're progressing. Pop in to the Greener Kirkcaldy Hub to find out about borrowing an efergy energy monitor.
| | |
| --- | --- |
| Appliance: |  Power in kW and notes: |
| Lights: | |
| Kitchen (fluorescent) |  0.13kW |
| Lounge |  0.03kW |
| Bedside dimmer lamp |  0.01 – 0.04kW, depending on brightness |
| Bathroom |  0.01kW |
| Cellar (2 standard size bulbs) |  0.17kW – I suspect these are not energy-efficient bulbs… |
| Oven display only: |  0.01kW |
|  Small hob |  Approx. 1.26kW |
|  Large hob |  Approx. 1.89kW |
|  Fan oven heating to 180 degrees c |  Approx. 2.03kW |
|  Defrost setting |  0.04kW |
|  Part grill |  Approx. 1.89kW |
|  Full grill |  Approx. 2.28kW |
|  Kettle (0.6l full – minimum) |  Approx. 2.00kW – Boiling time: 2 min 2 sec |
|  Kettle (1.7l full – maximum) |  Approx. 2.03kW – Boiling time: 4 min 4 sec |
|  TV and BT Vision box on standby: |  0.03kW |
|  Box on full, TV on standby |  0.03kW |
|  TV on full, box on standby |  0.10kW |
|  Both on full: |  0.10kW |
|  Computer plug on only: |  0.01kW |
|  Computer fully on but not in use |  0.07kW |
|  Computer on, screen off |  0.05kW |
|  Computer in sleep mode |  0.02kW |
|  Printer on |  0.01kW |
| Miscellaneous: | |
|  Clothes dryer |  Approx. 1.58kW |
|  Iron heating up |  2.27kW, though it fully heats in only a matter of seconds and reheats very quickly too. |
|  Vacuum cleaner |  Approx. 1.06kW |
|  Hairdryer |  Slow setting: approx. 0.80kW, fast setting: approx. 1.55kW. |
| | |
|