Halloween and Bonfire Night Recipes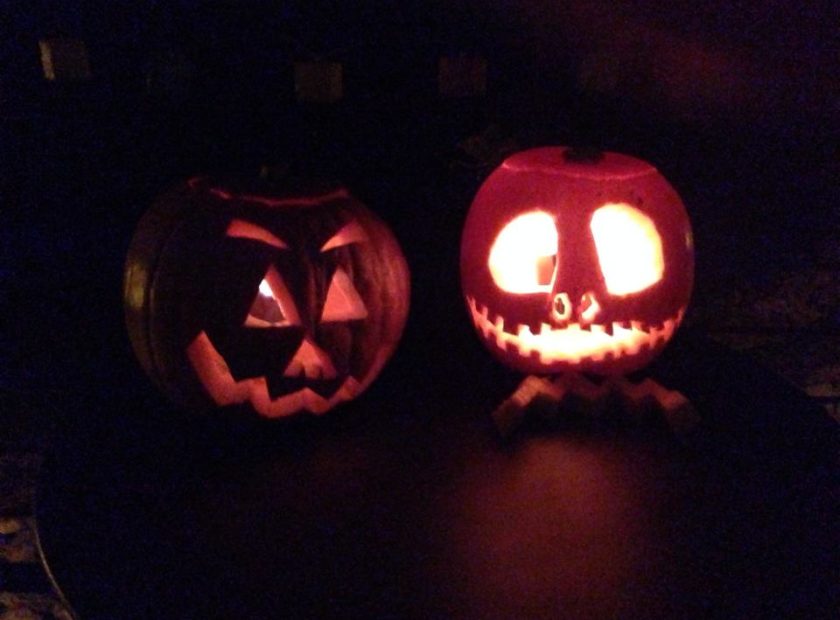 With the cold weather, Autumn is a great time to take to the kitchen and get cooking. What better way to start than with these Halloween and Bonfire Night recipes.
Halloween
Pumpkins
Once you've carved your pumpkin ready to scare spooky passers by, save the insides for some tasty Halloween treats. There are many recipes online that use scooped out pumpkin flesh. Here's one for pumpkin soup that I've tried, but there's also the traditional pumpkin pie or I like the look of pumpkin risotto. The seeds can also be toasted and eaten, by frying them for a few minutes until they are golden.
No matter what you do with your pumpkin after its carved, reduce your food miles and help support local farmers by making sure you buy a locally grown (or at least British) pumpkin. And if you save the seeds from this year's pumpkins, you could plant them in the spring and grow your very own pumpkin plants for next year!
Pumpkin Soup
Ingredients:
2 onions – finely chopped
Pumpkin, peeled, deseeded and chopped into chunks
700ml vegetable stock
Oil
Heat the oil in a large saucepan and cook the onions for around 5 minutes until they are soft. Add the pumpkin and cook for around 10 minutes until it starts to soften and look golden. Add 700ml vegetable stock and season with salt and pepper. Bring to the boil then simmer for 10 minutes until the pumpkin is soft. Puree with a blender.
Trick or Treats
Instead of buying generic bags of sweets, why not make your own Halloween treats to give to trick or treaters.  Not only is this much more fun (especially as everyone can help decorate), but it reduces unnecessary packaging and you'll be the house with the most exciting treats!
Try homemade toffee apples (using your own, or locally grown apples) or decorate biscuits and cakes with a Halloween theme. There are loads of recipes for spooky homemade Halloween treats available online, but BBC Good Food has a good selection. If you don't have time to make your own treats try and look for locally produced goodies with minimal packaging, and check labels to make sure ingredients are from sustainable sources.
Bonfire Night
Parkin
Being from Yorkshire, we've always celebrated Bonfire Night with the gingery goodness of parkin. Make it a week in advance for it to get really sticky.
Ingredients:
110g soft butter
110g soft, dark brown sugar
55g black treacle
200g golden syrup
120g medium oatmeal
200g self raising flour
3 tsp ground ginger
1 tsp ground mixed spice
2 medium eggs, beaten
1 tbsp milk
Preheat the oven to 140oc/120oc/Gas Mark 1. Grease a 20cm x 20cm square cake tin and line with baking paper.
Melt the butter, sugar, treacle and golden syrup in a pan over a gentle heat. Be sure to not let the mixture boil, they just need to melt together. Once they have melted together, remove them from the heat.
Place the oatmeal, flour, ginger and mixed spice in a large mixing bowl and mix together. Make a well in the centre and gradually add the melted butter, sugar and treacle, folding it all together. Pour in the beaten eggs and milk and mix well.
Pour into the cake tin and bake for 1 ½ hours – keep your eye on it as parkin can easily dry out if baked for too long.
Remove from the oven and leave to cool in the tin. Once the parkin is cool, wrap it in greaseproof paper and store it in an airtight cake tin. Parkin becomes more moist and sticky the longer it is left to develop so try and resist eating it for at least 3 days. We leave our parkin for a week before cutting it.
For another yummy bonfire night treat why not use up the rest of your sugar, treacle and golden syrup and have a go at making your own bonfire toffee.
|