World Water Day 2015: How important is water?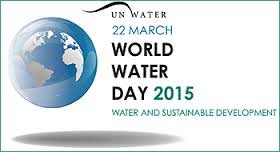 Sunday 22 March was World Water Day.In his blog, our media volunteer Adam looks into the importance of water in all aspects of our lives and why 'water' has it's own special day.
Water is a resource that many of us take for granted and we fail to realise how important it is not just in our lives, but also for the environment. This years theme for World Water Day 2015 is water and sustainable development. Through this theme we need to think about how water links all areas of our world and how important it is in building a brighter future we want. So here are a couple of reasons why water is key for humanity and the environment.
Health – Water is key for humans to survive. We could last weeks without food but after a couple of days without water you would die. The human body is made up of 50-60% of water, newborn babies alone are made up of 78% of water. Over the course of a day we use water for drinking , cooking and personal hygiene. However, according to Water Aid, 748 million people still do not have access to clean water. Today in undeveloped countries many people will get sick and die due to unsafe drinking water.
Nature – Freshwater sources come from natural habitats like forests, wetlands and grasslands. These are known as ecosystems and they are key to the development of the global water cycle. Freshwater sources rely on the continued healthy environments of these ecosystems. However, certain economic structures do not realise the importance of these freshwater ecosystems. This can lead to pollution from residential and industrial water waste which can harm these freshwater sources. In the future there needs to be an important shift in economic polices that respects the relationship between these ecosystems while also creating a balance between nature and industry.
Energy – Water and energy are interlinked. While water is used to create energy, in turn energy is needed to deliver water. Thermal electricity accounts for over 80% of power generation. This requires water for driving the electrical generators and billions of gallons of water used for cooling. It is estimated that worldwide, hydropower generates 16% of the electricity produced globally. There are however alternative methods that would lead to the more efficient use of water. These range from new technologies such as dry cooling. The use of alternative sources such as the sea hold new opportunities of reducing the use of freshwater supplies. Renewable energy such as sunlight, wind or tidal waves are viable options as they do not use huge amounts of freshwater.
Although the areas of health, nature and energy are important discussions areas, I believe the most important area is equality. Water is a resource we are all equally entitled to, it links us all together and the future of this resource should concern all of us. Freshwater sources are in danger from climate change and natural hazards which increase worries for water resource management in the future. Although by discussing these issues now more can be done to prevent and combat such hazards on a local and global scale.
So how important is water? the answer is that it is essential resource for both humanity and the environment. The theme of water and sustainable development should make us think about how important water is in our lives, for the environment and the future.
|