What's up With Wassailing?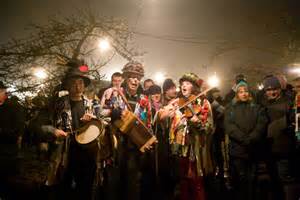 A wassail refers to the ancient custom between feudal lords and peasants where the local lord gave food and drink in exchange for their blessing and goodwill around the time or Christmas or Twelfth night. This took the form of a song or 'wassail'.
In recent years wassailing has become more popular with many people taking part in ceremonies all over the UK. How far the tradition dates back to is unknown but it is thought to have connections with Anglo-Saxon traditions and likely to have been taking place the 1066 Norman conquest. 'Weas hael' is Middle English for 'be in good health'.
An apple wassail is a custom that started in the cider producing areas of Devon, Somerset, Dorset where 'wassailers' visit orchards, reciting incantations and singing to the trees to promote a good harvest for the coming year.As this tradition grows in popularity especially among community orchards in Scotland, we will be doing or own on Saturday 24 January in our own orchard at Ravenscraig Walled Garden.
As this ritual is making a reappearance again 'wassailers' follows different formats and customs but generally there are the same core elements. With someone taking a lead or in some places a wassail King and Queen, they lead off with some traditional wassailing songs. Many rhymes can be sung when wishing the good health of the trees with a favourite going like this:
"Here's to thee, old apple tree,
That blooms well, bears well.
Hats full, caps full,
Three bushel bags full,
An' all under one tree.
Hurrah! Hurrah!
The assembled crowd join in and sprinkle apple juice or cider on the trees. Following that pots and pans are are banged to help reawaken the trees into lie and growth. There can be some associated story telling too.
Some people still dress in traditional costume but many now just wrap up cosy with a warm apple drink. The tradition might seem unusual in this day but it is fun for the whole family and you can sing to your hearts content or just mouth the words.
Apple and fruit trees are very important to us at our orchard. If you think back to October you may remember our Apple Day. We led some tours around our orchard. We still had some fruit on the trees from a successful harvest. So come along and join our wassail this Saturday (event passed). We'd love see you there and we'll have plenty of activity to keep everyone moving as well apple drinks and apple snacks.
If you want to find out more about the event click this  link: http://https://www.greenerkirkcaldy.org.uk/apple-wassailing-at-our-community-orchard/
And if you want to look back on our apple day success click here.
Wassail image from http://www.theguardian.com/lifeandstyle/wordofmouth/2010/jan/21/wassailing-cider-apple-orchard

Source information: