Weekend Wassailing (24/01/15)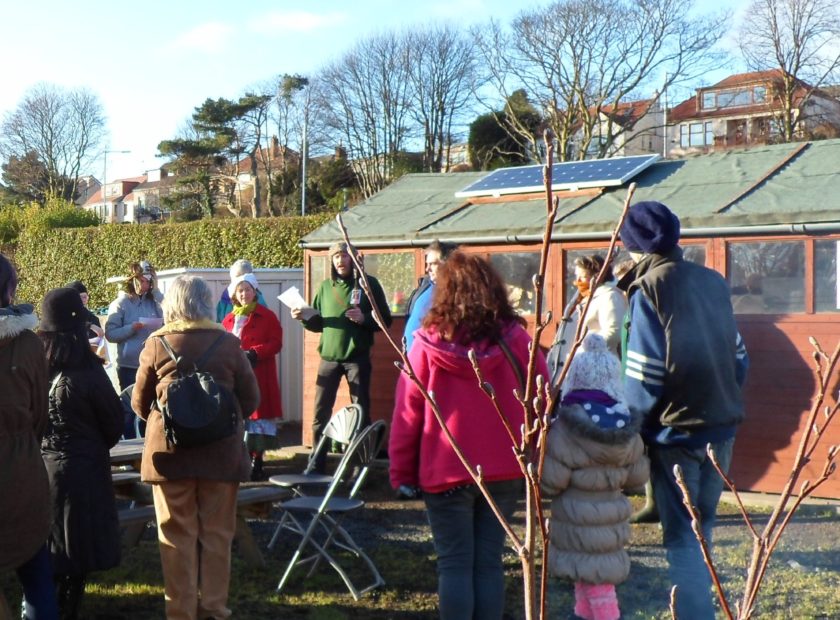 On Saturday the 24th of January, a crowd descended on Ravenscraig Community Orchard to celebrate Greener Kirkcaldy's first ever apple wassail. Around 45 people came along to see what it was all about. Featuring storytelling, singing, fiddle music, recital, toast, cider-water and the banging of pots and pans, this could be the start of a new tradition for our orchard. (Photos courtesy of Geraldine O'Riordan and Jennifer Bain.)
After Mrs. Mash told us the story of the Apple Tree Man, we got straight into learning our first wassail song before heading up to the first tree.
It was a good day for it too! Take a look:
Here is Mrs. Mash teaching us a simple apple-wassailing song:
Oh apple apple tree,
We have come to wassail thee.
Willst thou bear some fruit for me
When the season changes?
After some singing we listened to a tune on the fiddle and then Ronnie toasted the first tree by, well, hanging a piece of toast on it. We dipped makeshift conifer brushes in cider-water to sprinkle on the roots and banged on pots and pans around the trees. Why? To scare away evil spirits of course!
While the sprinkling of cider, beating of pans and hanging of toast from trees might seem ridiculous, there is perhaps a bit of method in the madness. Aside from bringing communities together in the same way that other annual traditions do, maybe there is something in the idea of making noise around plants to help them grow? And, though the children at our event were armed merely with water I believe, might a bit of strong cider help to prevent pests, fungus or even disease from taking a stronghold of a potentially vulnerable tree? As for the toast, well that is likely to attract birds which might then begin eating bugs and larvae. After all, while insects are extremely important for the pollination phase of a tree, they can sometimes cause extensive damage at other times of the year.
After all the fun and noise, we relaxed with snacks and mulled apple juice while Mrs. Mash told a children's story in the howff.
As bizarre as it seems, the tradition is in fact quite commonplace at this time of year in some of the more famous cider-producing regions down south. While ours was a family-friendly daytime affair, they are often held in the evening with cider, singing and general rowdiness lasting well into the night. The annual wassail on the old twelfth night is just a part of the orchard culture. Let's hope we see results from our own wassail in the form of bundles of fruit come October!
|