Waste Not, Want Not: Wrapping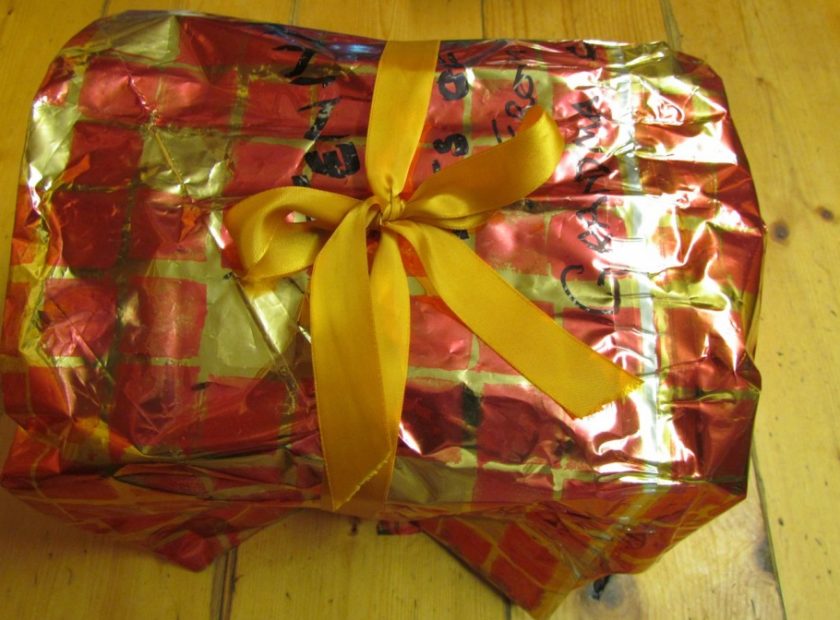 by Lauren Parry and Jennifer Bain
Christmas is coming! You've spent months planning and finding the right gift and the time has come to wrap it. Wrapping and unwrapping presents is a big part of Christmas, but when the festive season is over what becomes of all that paper?
Due to the materials it is made from, wrapping paper can be difficult to recycle and is often only used once before being thrown away. What's more, buying wrapping paper and tape every year can be expensive, and time consuming. So, in the interest of reducing waste, and improving the present wrapping experience, we've been exploring some more sustainable ways of wrapping our Christmas presents.
Furoshiki Wrapping:
Furoshiki Wrapping is a Japanese tradition, wrapping and carrying presents and other goods with a reusable cloth instead of paper or plastic bags. This eco-friendly alternative can be reused time and time again. There is no need for tape and one piece of cloth can be used to wrap a range of shapes and sizes, so there's no fuss with cutting or wasted bits. This fast and simple method provides a novel and attractive way to present gifts. Oh, and its good fun too!
Recycle Now have produced an easy to follow video showing how to Furoshiki wrap gifts of various shapes and sizes:
Not sure you can do it? Have a look at our attempts – we may not be as fast as the professionals, but it really is as easy as it looks…
Any kind of fabric can be used for Furoshiki – headscarves, shawls, pashminas and sarongs (for a summery souvenir!) work well – but a simple square cloth is often easiest to work with, especially where diagonal folds are needed. Make it part of the gift or put a note inside encouraging the recipient to reuse it for wrapping. Websites such as http://www.wragwrap.com sell wrapping cloth in various sizes, styles and designs – they even have a range of Christmas designs – but you can just as easily buy or recycle your own pieces of cloth.
More Wrapping Tips:
Gift bags can of course be re-used again and again. Passing the same gift bag back and forth with the same person every year can make an amusing tradition.
Attractive tins and boxes can be used the same way.
If you just love the whole experience of paper wrapping your presents, see if you can do it without that recycling nightmare known as sticky tape… This can be tricky to get just right, but with a bit of patience and careful manoeuvring (and maybe an extra pair of helping hands), it can be done! Just make sure you make the creases really crisp. Use ribbon or wool to tie your presents the traditional way.
Used Christmas cards make great gift tags. Cut into smaller squares if they are too big and punch a hole in them for tying onto your gifts. The backs of the cards can be recycled as waste paper.
Have a box handy for used wrapping paper on Christmas day. Paper in good nick can be used to wrap presents next year. (Who says it has to be neat and tidy?!) Paper that has been unceremoniously ripped off can be shredded and re-used as next year's gift-bag filling.  Tissue paper can be re-used the same way.
|