Using Climate Fresk to understand the climate emergency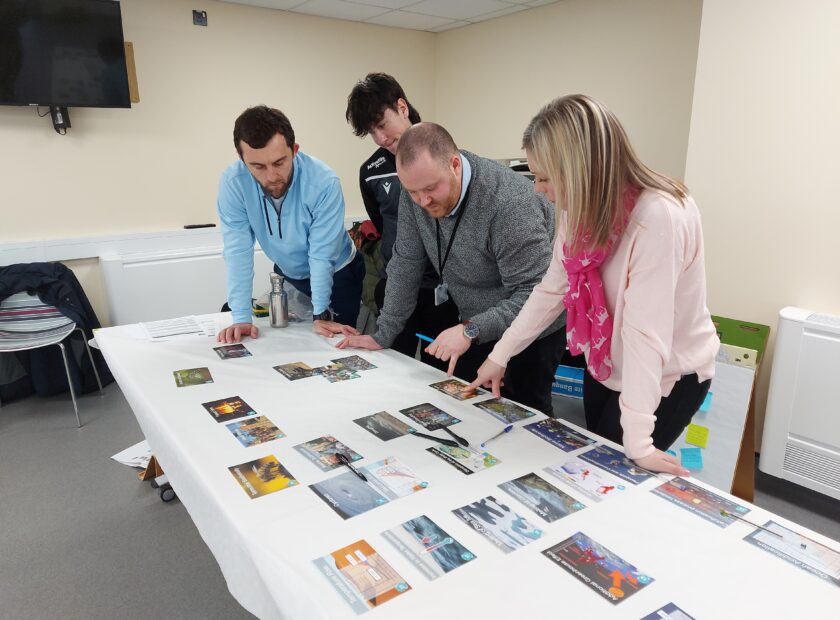 In March 2022, Climate Action Fife delivered their first in-person training day combining the Climate Fresk approach with Fife Climate Knowhow modules. Read about how it went in this blog by Climate Action Fife. 
We developed the Fife Climate Knowhow course as part of the Climate Action Fife project. Our training provides everything the learner needs to know to confidently discuss the climate emergency, as well as take action to tackle it. At the end of the course, people have an understanding of the science, causes and impacts of climate change and the knowledge and motivation to reduce their personal, community and work based emissions. Participants also learn how to talk about climate change to their peers.
The course has been accredited by the Carbon Literacy Project as meeting their standard. This means those who complete the course can be certified as carbon literate.
Climate Fresk is a collaborative workshop that allows participants to collectively understand the implications of climate change and trigger action. Participants work together to create a collage using a set of 42 climate cards. Firstly, participants lay out the cards to tell the story of global warming, thinking about causes, effects and impacts. They then creatively link the cards by adding arrows and artwork to their collage. Finally, they reflect on their creation and give it a name. It is a collaborative and creative approach to understanding the science and impacts of climate change.
Sports Development Team Climate Fresk Training Day
We delivered Climate Fresk and Climate Knowhow with Fife Council Sports Development Team. The team leader had come across the Big Five for Fife on social media. He contacted us to find out how his entire team could become more knowledgeable on the climate emergency. The Big Five for Fife is our public campaign to encourage Fifers to tackle the climate emergency by pledging to one of five high impact actions.
In the morning, we looked at the science, causes and impacts through the interactive session, Climate Fresk.
This slideshow requires JavaScript.
After lunch, we delivered the Adaptation and Action and Talking About Climate Change modules of our Climate Knowhow course. Participants took part in climate-friendly food and travel activities and we talked about what a climate friendly Fife might look like. We discussed individual and community climate action. The group also talked about how to make talking about climate change normal.
We set time aside in the programme to help the participants fill in a short assessment at the end of the day to gain Carbon Literate accreditation. All participants have since become accredited.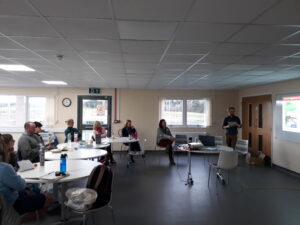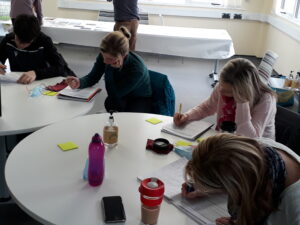 At the end of our Climate Fresk training day, the participants told us they felt:
"Educated and in control of how I can make a difference"


"Empowered"

"This workshop was done with colleagues and it was great to work together on getting a better understanding of Climate change and how we can tackle it."

"[The facilitators] were great, answered any questions we had and the workshop was very interactive. Thoroughly enjoyed it and would recommend it to others. Definitely gave me a better understanding of Climate change"

"Fantastic training and a real eye opener"
Climate Knowhow
We have delivered Climate Knowhow to 121 Fifers to date, 49 of whom were certified as Carbon Literate. This includes project partners, community leaders, community councils, Fife Council employees and members of the public.
The post-course assessment requires learners to pledge to an individual and group climate-friendly action. We used these pledges to calculate that Climate Knowhow has saved 117 tCO2e annually, with a lifetime saving of 350 tCO2e.
If you would like to find our more about taking part in Climate Fresk or another of our climate literacy workshops, please email hello@climateactionfife.org.uk
|