Top tips for keeping your home warm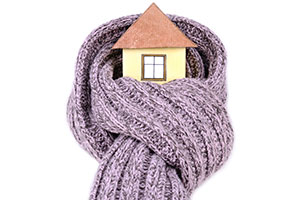 Whilst winter may be getting near the end, it is no guarantee that we will get warmer weather once spring has arrived (as the current cold spell is showing us!). Here are a few tips and ideas of what you can do to keep the heat in your home (these will also be good for preparing your home for next winter!).
Draught-proofing is easy and effective. The Energy Saving Trust website has a lot of good tips on how to draughtproof your home.
Close blinds and make sure all of your curtains are lined. These are most effective for homes without double glazing, or windows that are draughty.
I have also put up curtains on the front and back door to cut down on the draughts there. Old blankets can also be rolled up and put at the bottom of doors to help further cut down on draughts.
Check that there are no broken or missing tiles on your roof (this will have a detrimental effect all year around as well when it rains).
Seal gaps in the floorboards and skirting boards.
Ensure that the gutters are clear so that any water can flow away from the house more easily.
Ensure that boilers and heaters are regularly serviced and well maintained so they run efficiently and will be less likely to break down when they are most needed.
Reflect heat from any radiators situated on an external wall. This can be simply done by lining them with kitchen foil or you can buy radiator reflector panels, which will be more efficient, for around £8 from a hardware store.
Bleed radiators so they work more efficiently. It is a simple job and it does not take much time to do. Here is a video showing how to bleed a radiator.
Check to make sure that your insulation is adequate enough.
These are all easy and inexpensive to do, and are steps towards ensuring that your home is as efficient and as warm as possible. For more tips on keeping your home warm and more efficient, and on grants, schemes and help available, contact us to book a free and impartial home energy advice visit from our Cosy Kingdom energy advisors. Call 01592 858458 or email info@greenerkirkcaldy.org.uk. Or you can drop in to our High Street Hub, 254a High Street, Kirkcaldy, KY1 1LA, for advice Wednesday to Saturday 10am – 4pm.
|