Fairtrade Fortnight Breakfast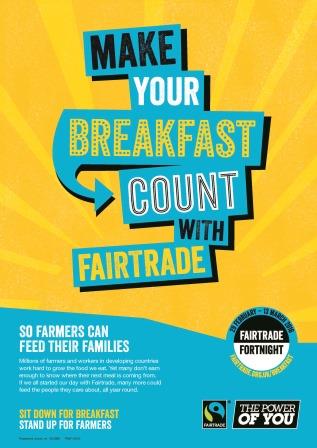 Wednesday 2nd March, 9.30am – 11am, High Street Hub
Join us in the High Street Hub for a Fairtrade and locally-produced community breakfast to mark Fairtrade Fortnight (29th February – 13th March). Alongside breakfast, we'll be showing the award-winning film "Fairtrade Matters" that follows the lives of two small farmers, and encouraging you to explore the links between food, families and the environment, both here and abroad, through family-friendly activities, conversations and games.
Martin Luther King said: "Before you finish eating breakfast in the morning, you've depended on more than half the world". This year, you can make a difference and be part of a fairer food system by sitting down to a Fairtrade and local community breakfast.
This event is free and there's no need to book.
|