The Ravenscraig Cook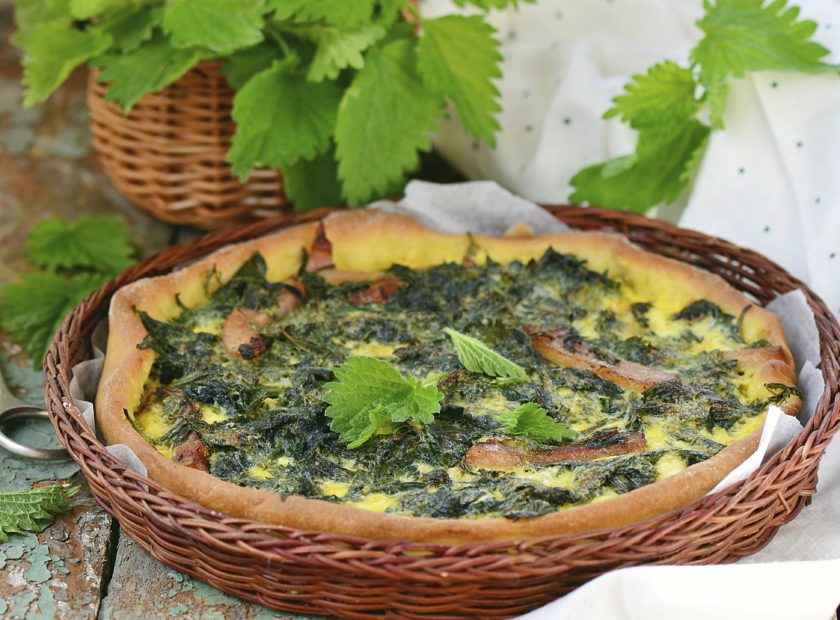 Our orchard development worker Jackie shares some seasonal recipes in a monthly blog from Ravenscraig Walled Garden.
The Ravenscraig Cook
Our volunteers have been weeding on the allotment over the last few weeks and one of the weeds we've been dealing with is the nettle. We've been trying to avoid stings and have decided that the best way to get rid of them is to eat them!
Nettles are good for you – they contain iron, potassium, vitamins A and C – and they also taste good. The first challenge is how to collect them – use a decent pair of rubber gloves to avoid getting stung. Only pick the top few leaves of each plant, these will be young and tender. The older leaves further down the plant tend to be tougher and can get bitter. You'll need to collect at least half a carrier bag full as when you cook them they reduce right down. Keep your gloves on until you've washed the nettles as they can still sting you until they are thoroughly wet.
You can use nettles as a substitute for spinach in almost every recipe – omelettes, quiche, risottos,pasta – and I'll share a couple of my favourite recipes with you.
Basic nettle mixture
Soften a finely chopped onion in a little olive oil or butter over a low heat for about 10 minutes. It should be soft and translucent but not browned. Wash the nettle leaves and squeeze out as much water as you can then add to the onion. Season to taste with salt, pepper, chilli, herbs or garlic.
Wild garlic goes well with nettles and is also plentiful at the moment. Stir over a low heat for about 5 minutes until the nettles are wilted. This mixture can then form the basis of a number of different dishes – add to risotto towards the end of cooking time, stir through cooked pasta, top with eggs for an omelette, use as a filling for pasties or in filo pastry for nettle spanakopita.
Nettle gnocchi
Gnocchi ingredients
800g waxy potatoes
800g young nettles
2 eggs, lightly beaten
Half a cup of grated cheese
200g plain flour
Sauce Ingredients
50g butter
Chopped herbs – parsley, thyme, wild garlic, chives
250ml double cream
A spash of white wine
Grated parmesan to serve
Method
Boil, drain and mash the potatoes until smooth. Wash the nettles and then cook them in the water that clings to the leaves for a few minutes until wilted. Squeeze as much water as you can out of them and then chop and add to potatoes. Add the eggs, cheese and seasoning. Add enough flour to make an elastic dough, not too sticky or too dry. Break off pieces of dough and roll into a cylindrical shape about 2cm in diameter. Cut this into pieces of about 2cm length. Keep on a floured board until ready to cook. Boil water in a large pan and cook the gnocchi in batches for about 2-3 minutes, until they rise to the top. Melt the butter in a large pan and add the herbs. Cook for about a minute to flavour the butter. Add the wine, then the cream and cook for a couple of minutes until it starts to bubble. Add the gnocchi and mix through. Serve with parmesan cheese and black pepper.
This recipe is adapted from Twelve by Tessa Kiros.
Spring quiche
Pastry Ingredients
75g soft butter
175 plain flour
salt, a teaspoon
4-6 tablespoons of  ice cold water
Filling Ingredients
basic nettle mixture with spring greens such as wild garlic, dandelion, sorrel, chives, thyme.
cheese, local cheddar, Parmesan or feta, grated or crumbled
2eggs
200ml double cream
salt and pepper
Method
Rub the butter into the plain flour. Mix in the salt and add the water gradually to bring together into a firm dough. Put in the fridge for about 30 minutes. Then you can roll it out to fit a baking tin (I use a cake tin). Prick all over with a fork and then bake at 180C for about 12 minutes until starting to go golden.
Spread the nettle and spring green mixture over the bottom of the baked pastry case and then cover with a layer of your favourite  cheese, how much depends on how cheesy you like your quiche! Mix the eggs and the cream, season with salt and pepper and pour this over the greens and cheese. Bake at 180 degrees for about 20-30 minutes.
Good luck with your nettle cooking!
|