Sharing plans for the future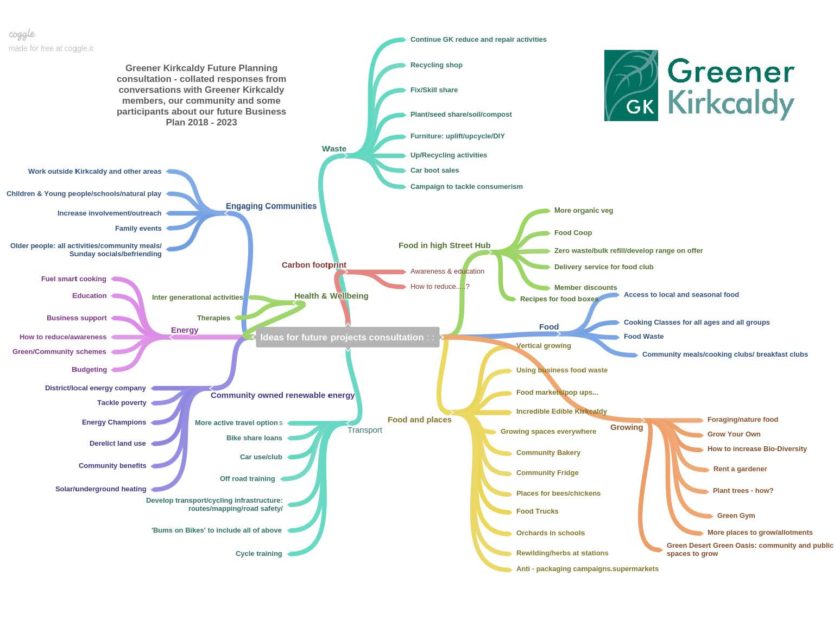 Greener Kirkcaldy celebrated our successful application to the Big Lottery Fund Community Assets programme by hosting an evening with Greener Kirkcaldy members, friends, supporters, volunteers and staff. It was a great opportunity to thank everyone for their support in making it happen as well as give an update on our plans for our building at East Fergus Place.
Once building work and renovations have been completed, our building on East Fergus place will be our new headquarters and will house our Cosy Kingdom and community engagement projects, our office space, a community training kitchen and a meeting/event space. Building work is needed to bring the building up to standard requirements for our needs and plans i.e. rewiring, new drainage, internal renovations, fuel efficiency measures, and insulation. The building currently has no disabled access or facilities. These will be added so that the building is accessible for everyone in our community. The next three months will focus on acquiring all the warrants and permissions required to start the building work. Following Big Lottery rules, procurement for the building work and contractors will be going out to tender through Public Contracts Scotland.
The building work will hopefully start in the New Year with a moving in date in late Summer 2018. We have been awarded approx £900,000 by the Big Lottery Fund, the bulk of which will go on building works, renovations, fees and VAT. This also includes revenue costs to cover staffing and running costs over the next five years. We will maintain our High Street presence on Kirkcaldy High Street with our High Street Hub.
You can read a previous blog here, which outlines plans for the activities that will run from our new building as part of our Community Food Hub Project.
We also gave a progress report on our Planning for the Future consultation. We started a conversation about developing our next Business Plan 2018- 2013 with Greener Kirkcaldy members and participants at our Annual Gathering and AGM  back in May 2017. We've also been carrying out an online consultation and have had some conversations with participants involved in our activities.
These conversations have not only generated lots of ideas and themes for us to consider, they are giving us a steer that we are on the right track in working with our community on issues and activities that are important to them. We collated these responses based on the number of times activities were mentioned and whether it is something that Greener Kirkcaldy, as a community organisation, can influence and make happen. Some of the contributions are beyond our remit but were helpful to give an insight on what is important to people. We have collated a snapshot of themes and ideas that have been contributed so far into a Mind Map.
Food has been a very broad theme from increased access to food, local and seasonal food, community food activity, learning and skills development, and more.
Energy themes focus on work we are already doing and activities that are being developed in terms of education and awareness around using fuel efficiently, as well as managing fuel in an affordable way, right up to community energy schemes.
Transport and waste themes also give a strong nod towards continuing education and awareness activities around reducing waste as well as skill sharing and learning. We have been piloting a small sustainable transport project this year and again we acknowledge from community responses that this is an issue that is really important to people and people would like to see more activities to encourage it.
There is strong interest in growing food, developing the skills to do it and accessing spaces to do it. There is a lot to build on here to strengthen and develop the work we already do in our community garden and orchard at Ravenscraig Walled Garden and our Edible Landscape Project at Dunnikier Country Park.
We have had some really useful contributions around climate change awareness which is core and at the heart of everything we do. We also heard from people who see us as having an impact on health and wellbeing activities and opportunities to access these.
Finally, themes that came up most regularly were in support of increasing our community engagement wider than Kirkcaldy; with more groups like children, young people and older people; and more family-friendly activities.
So what happens next?
GK Staff and board members have met in a workshop to look at the collated responses. We have set up a 'Future Planning' group, made up of GK board members and staff. All the information is being collated, with GK board members leading on the assessment of these ideas to generate a short list. This list will form a Strategic Plan of future project ideas to take forward for 2018-2023.
We'll inform members and our community when this has been completed through blogs on our website and in our monthly e-newsletter – you can sign up here to receive it straight to your inbox. We'll also have hard copies of this information in our High Street Hub at 254a High Street, Kirkcaldy.
|