Seasonal and simple Too Good To Waste Curry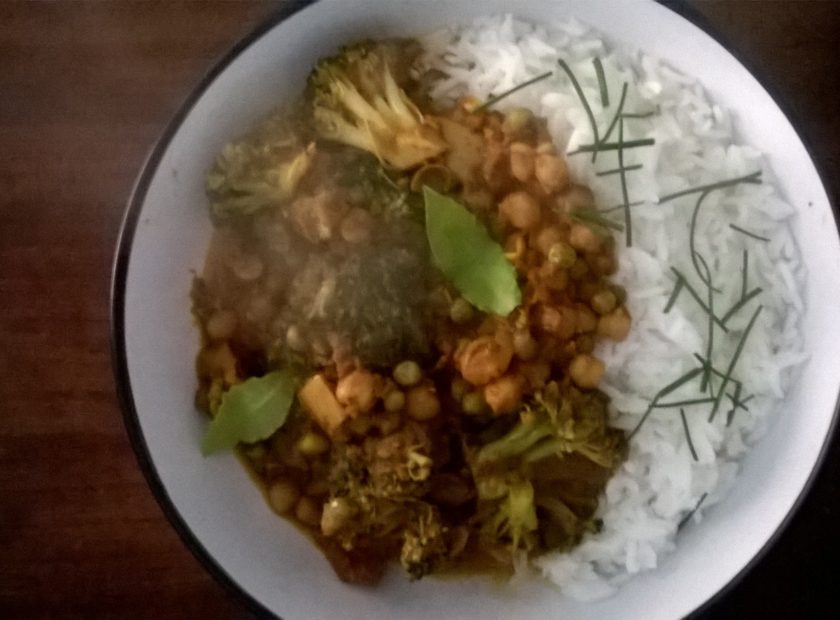 A quick and simple home-made curry recipe – which is left-over and freezer-friendly, too!
I've always been a bit daunted by the idea of making curry: Isn't it a bit fiddly and time consuming to prepare? Won't it require lots of ingredients? Will I be able to get the mix of flavours right? This was the first curry I'd ever made, and not only was it quicker and easier than expected, it gave me a way to try some of the store-cupboard staples from our Eco Shop and use up some of the seasonal veg from my local fruit and veg order.
Curry is one of those meals that can be made in advance, and portioned out when needed, and is a great way to use up left-over. As the curry base can be frozen, you can make a larger batch, divide into portion-sized containers and defrost when required. All you need to add is whatever left-overs or vegetables you have in the house.
This recipe is adapted from London Unattached and serves 2, but the quantities can easily be doubled up to serve 4, or to make some and freeze some for later. The whole curry takes around 30 – 40 minutes to cook and 20 minutes to prepare. If you've already made the base in advance, it can be a very speedy supper!
Basic Curry Base
Ingredients
1 medium carrot
1 medium onion
2 cloves of garlic
1 tin of tomatoes
½ teaspoon cumin (ground, or use seeds and grind in a pestle and mortar)
½  teaspoon coriander (ground, or use seeds and grind in a pestle and mortar)
½ teaspoon ground cinnamon (or use 1 piece cinnamon and grind in a pestle and mortar)
½ teaspoon tumeric
1 teaspoon chilli powder (or ½ teaspoon chilli powder and 1 small fresh chopped chilii)
½ teaspoon paprika
½ teaspoon ground ginger (or use 1 small piece of fresh ginger, grated)
1 teaspoon garam masala
1 teaspoon olive oil, rapeseed oil or coconut oil
Optional
1 handful Fresh Coriander
Juice of ½ lemon
Method
Chop the onion, garlic and carrot
Measure out all the ground spices (use a pester and mortar – or a pot and the end of a rolling pin – to grind any spices that aren't already ground)
 Add a teaspoon of oil to a large saucepan and when the oil is hot, add in all the dry spices
Heat on a medium heat for a minute before adding in the onion, garlic and carrot. If you're using fresh ginger or chilli at this point, too. Stir well and reduce the heat, cooking for a further 5 minutes until the onion is translucent
Add the tinned tomatoes and the juice of the lemon and continue to cook for 15 – 20 minutes, until the carrot and onion is soft. Add a handful of fresh coriander, then take off the heat and blitz with a hand blender. Taste, and add salt, pepper and more chilli as necessary.
Use straight away, or freeze, and defrost when needed.
Curry

Curry Ingredients
Around 500g of any veg, chopped into large chunks. Use whatever is seasonal that you still have in your fridge – for July that's broccoli, kale, chard, spinach, cauliflower, courgette, new potatoes and squash. You can also use cooked left-overs from the day before, instead of fresh veg.
Optional
1 tin of chickpeas
½ tin of coconut milk
Method
Add your chosen veg to the pan with the curry base, pop on a lid, and leave to cook on a low to medium heat for 10-15 minutes, depending on the vegetables used. (Squash will take a little longer to cook). If you want to make the curry creamier, add the coconut milk at this point, too, along with pre-cooked or tinned chickpeas.
If you plan to serve the curry with rice or quiona, rinse the rice or quinoa, and cook in a pan of water whilst the vegetables are softening.
The curry can be served with fresh coriander, to taste, an can be adapted to include extra protein, by adding a handful of cashew nuts, or a boiled free-range egg
|