Ross's Diary: Bat Walk 11th May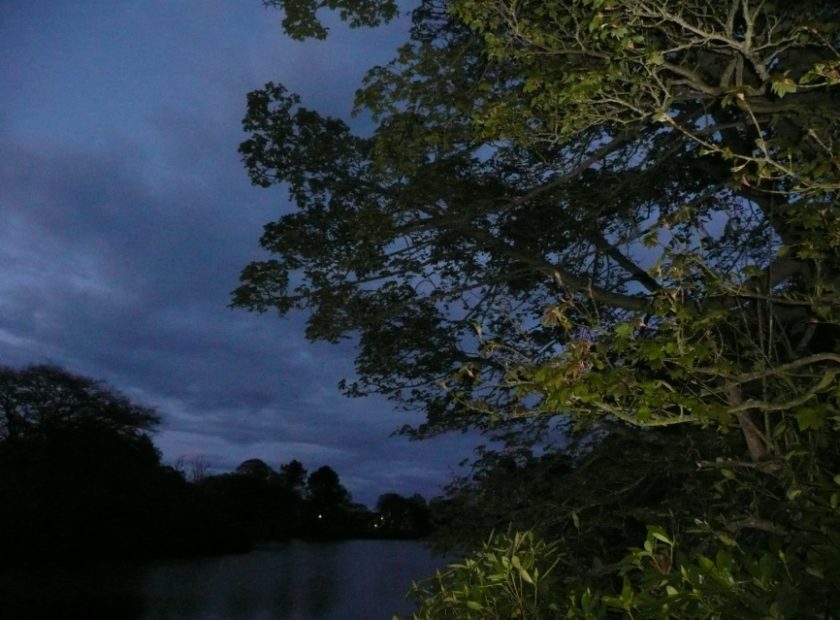 The group gathered outside of Kirkcaldy Rugby Club in the Beveridge Park at around 20:30 not to go to the party, but to go on the hunt for bats. There were mixed feelings for the small, furry creatures; mainly anticipation and excitement, but also fears of them flying into your hair and cynicisms about finding bats before dusk. Despite all of this, there was a great turn out!
Firstly we were told about the types of bats that are found in Fife; the Common Pipistrelle, Soprano Pipistrelle, Brown Long-eared Bat, Daubenton's Bat, the Natterer's and the Noctule Bat.
To start off the walk, any misconceptions were cleared up; bats do not feast upon human blood (at least in this country) and definitely do not turn into vampires. Bats here are largely insectivores and are not prone to biting humans without being provoked. Tony himself has once been bitten by a bat and it hadn't even drawn blood.  It is thought that many bats carry rabies, but as they have little contact with humans it is not a concern. As a precaution he still had an injection for rabies. He also informed us that bats are rare and are protected by law.
We proceeded up the hill and then stopped at an old tree. Bats do not generally hibernate in trees or houses in the winter, but prefer caves and old buildings for their low and stable temperatures. However in the summer, they will roost throughout the day in trees and in spaces in our houses.
Tony showed us his bat detector, which detects the high frequency calls of the bats. The bats call to locate their meal (insects) from detecting the waves that bounce from their prey. It seems it also picks up the sound of keys rattling and crisp packets being opened too! At first we were unsure of whether it would be of use as time wore on. Then not long after we picked up two Pipistrelles calling and swooping overhead.
What do bats' ears have in common with satellite dishes? – The waves are reflected to a focal point at the front of the bats' ears, in the same way as the waves are focused upon a receiver on a satellite dish.
From that point on there were frequent sightings of bats, if you look carefully you can even see I caught them on camera!
Even more bats were found by the pond, and the lower frequency calls suggested that they were most likely Daubenton's bats (water bats). Which hunt by flying parallel to the water. Bats have many different hunting techniques with some hunting by street lights.
As we were making our way back to the rugby club Tony told us his stories and experiences with bats around the world; from flying foxes in Costa Rica to pollinating bats being removed from botanical gardens in Australia.
I have posted our bat sightings to the "Big Bat Map" at the Bat Conservation Trust. http://www.bigbatmap.org/
|