Advice Centre and Eco-Shop re-opens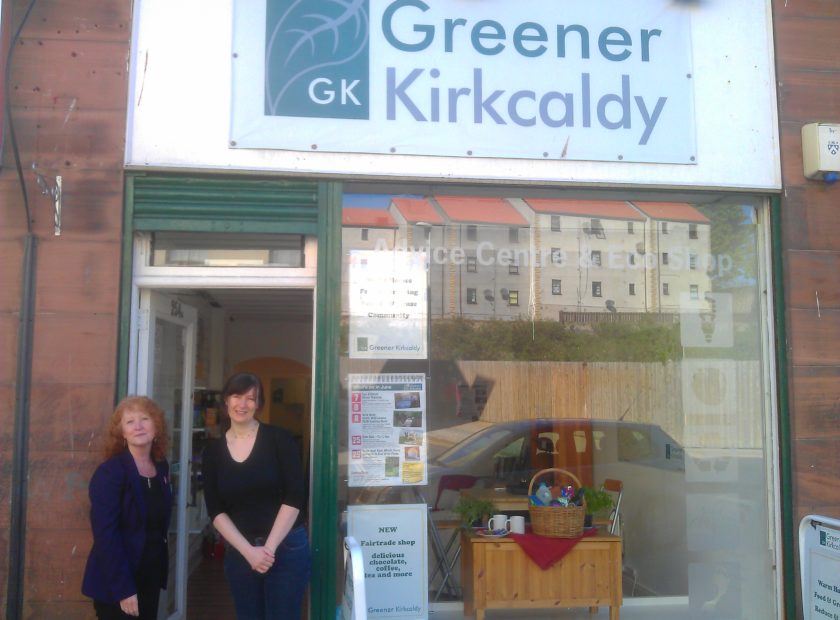 We're back!  The new look Greener Kirkcaldy Advice Centre and Eco Shop has re-opened on the High Street this Saturday 25th May.
You can still come in for impartial, expert energy advice but we've expanded what we do in the centre to reflect the wide range of things we now do outside the centre.
The biggest change you'll notice if you come in to see us is the addition of our Eco-Shop where we're selling a wide range of Fairtrade products, LED lightbulbs and as usual our Ecover refills.
Fairtrade is all about making sure that when we buy things that come from far flung corners of the world that the producers get a fair price for their products, making sure they have access to the things we take for granted here – healthcare, education and labour rights.  So you can enjoy coffee, chocolate and tea safe in the knowledge producers are getting a fair share of the money you paid for it.
Regulars to the shop will know we've been refilling Ecover cleaning products for a while now.  The idea is simple – just bring an empty bottle in and we'll swap it for a full one.  It cuts down on packaging and is also kind on your wallet because we buy in bulk and pass the savings on to you.
Mention energy saving lightbulbs and many people think of ugly looking things that take ten minutes to come fully bright.  Well think again!  We've got the newest generation of efficient bulbs – LED technology!  They're really bright, use 1/10 the energy of a traditional lightbulb and look great.  Plus they have an ultra-long lifespan.
See the wee gallery below of what's on offer in the shop – and please pop in on Friday and Saturday 10am to 4pm for a browse.
|