Returning to Cycling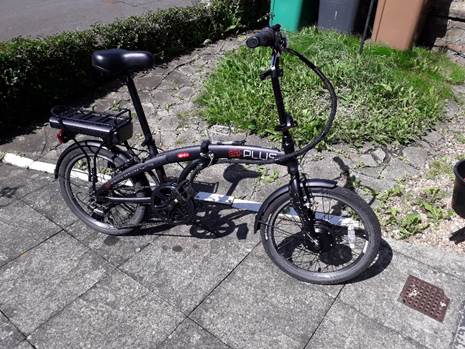 Local Kirkcaldy resident Simon McGlary talks about the progress he has made mentally and physically while using an ebike in this latest blog entry. 
Last September 2019 after having been in debt for a couple of years and reaching a stage where I was struggling to pay it back one of my workmates made a suggestion that could get me out of the hole I was finding myself in. It was also suggested that I should treat myself as well. For years I have been storing my trusty Saracen HyRoad on a pulley system hanging from the ceiling in the living room of my one bedroom flat.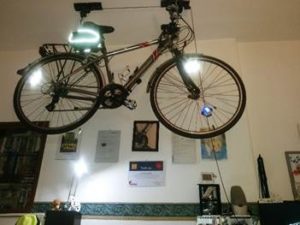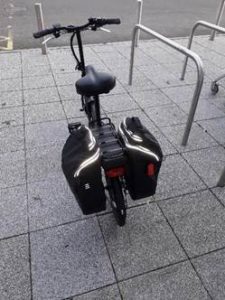 The treat to myself was an ebike. It was actually the cheapest one from Argos but an ebike all the same. Since 2014 I have been car-free after a couple of health conditions meant I had to give up driving for some time so my shopping was being done on foot and I originally planned the ebike would be used to help with doing my shopping at ALDI. Perhaps a little exercise a little further afield in the summer. All was working quite nicely but I was in the hospital at the end of May (remember that hot sunny weekend?) with stomach issues. Losing a bit of weight and getting a bit fitter wouldn't do any harm so when I came out I made the decision to see how I could get more from the ebike and originally started every Friday using the ebike to cycle to work just at the Thornton side of Bankhead roundabout in Glenrothes. A single journey of 5.9 miles. It was working well and I was planning to increase gradually the number of days I used the ebike to work over the summer. Then in July when the social distancing reduced on the buses my anxiety levels went up alarmingly. I've only used the bus to work twice since, in absolutely torrential rain and when both bikes had punctures in the same week. That's right, I said both bikes!
When the ebike had a puncture I decided to invest in better quality tyres than the originals but I needed to use the Saracen to get to work, earlier than anticipated. How would I get on? Had the ebike helped improve my fitness?
Answer to those questions, better than I hoped and yes very definitely. Problem was, the next day the Saracen suffered a puncture so that had to get new rubber as well. I'm hooked on the bike though, even in the rain, even when soaked through to the skin. There have been a number of additional little bonuses from both bikes.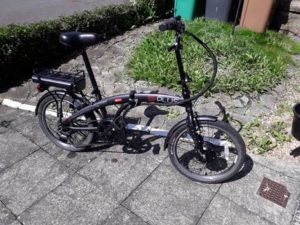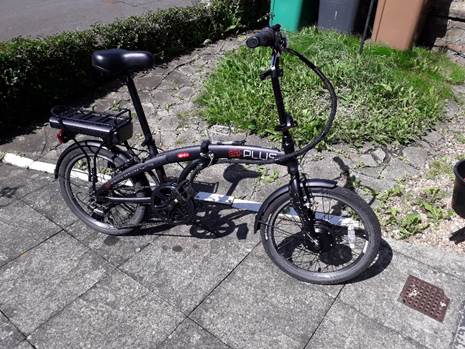 First off, the ebike was to help as regards doing shopping and perhaps get myself fitter. The whole Covid pandemic accelerated increased use but I've been working through it all and also being autistic and prone to depression and anxiety and having one big meltdown early on the work has helped, especially as I haven't been able to get to Edinburgh Zoo where I am a Visitor Engagement Volunteer. So come the end of July I was cycling to work every day and using the Saracen for shopping. There is a weight difference between the two bikes, the ebike is 25kb and the Saracen is 16kg which also play a part in being just as fat as each other. That 9kg a difference has helped improve strength and that the ebike is pedal assist, if you stop pedalling the motor stops assisting, my stamina has improved as well.
On July 25th I got back to the zoo and this is where the ebike came into its own. It's a folder and I have a bag for it which means that when folded and bagged it becomes luggage and I can take it on the bus. Cycle to Kirkcaldy bus station, fold up the bike, into the bag and into the luggage compartment of the bus, bus to Edinburgh, bike out the bag and cycle out to the zoo. To keep the bike safe I folded it up back in the bag and into a large locker. Reverse for coming home. It worked great! It's quicker than the bus in the city as well. Along Princes Street I found the biggest hazard wasn't tramlines, trams, buses or taxis, rather pedestrians who don't understand the concept of crossing a road safely.
Let's go back to a point in that last paragraph, it's quicker than the bus. I've been using my fitness tracker on my journeys to work and making alarming discoveries. It's quicker than going on the bus. Where I work I would get the bus to and from Foxton drive and walk up by Trend and Glendale Plastics, around 12 minutes. In the morning, to be sure of getting the bus I would walk to the bus station, again, around 12 minutes. The bus journey itself is around 25 minutes. All in around 49 minutes door to door. There is a route that takes you over the A92 dual carriageway on a footbridge so quite safe as well on the bike. Worst time on the bike so far 46 minutes on a windy day, compared to 49 minutes on the bus. Best time has been 36 minutes, even with the Saracen. The ebike has helped get me in shape to use the regular bike as planned and quicker than hoped. The bike beats the bus in both directions. Given a Central Fife Rider ticket for a month is £83, the ebike has been paid for in 5 months, and 1 month's bus fare covered the cost of 4 new tyres and tubes for 2 bikes.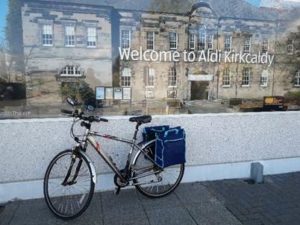 It gets better, others have noted how much brighter and more positive I have been since using the bike on a regular basis. My mental health is improving. The buzz you get from being on the bike is amazing and the number of cyclists, walkers and joggers that say hello to you is remarkable. When at the zoo it was also commented on how I had no problems walking up the hill of the zoo and was even able to carry on a conversation. I'm getting noticeably fitter. Also commented on was how much slimmer I'm looking. With no change to what I'm eating I lost 5kg in the first 2 weeks. Just in one journey to work alone I'm getting a decent work out that's you would have to pay for if you went to the gym, and I'm getting it twice a day.
I'm improving my physical health, I'm improving my mental health, I'm sleeping better, I'm getting fitter, I'm saving money on bus fares, I'm improving my general fitness without the cost of a gym membership, I'm reducing my carbon footprint and when your out and about at that time of the morning on the more rural type bike routes the wildlife you see is amazing. That last one is an added bonus for someone who enjoys watching and spotting animals. I admit to saying good morning to the rabbits, horses and other animals I see on my way which has also included deer, a weasel and a range of bird species.
The real clincher will be if I enjoy it just as much through the winter. I seriously hope I do. Like I say, I've even enjoyed it in the rain, getting soaked through to the skin. With such dramatic and noticeable results in such a short time, I would say buying that ebike last year has probably been the best investment I have made.
I now have a different train of thought on ebikes altogether. Stop thinking about whether or not you want to get an ebike. You do. What you should be considering is what would be the best ebike for your situation and would get the most use. As time goes by, the level of assist you use will go down, you'll get further, you'll use it more, and the huge grin on your face when you're on it will get bigger!
|