Plate Up For Fife Seasonal Recipes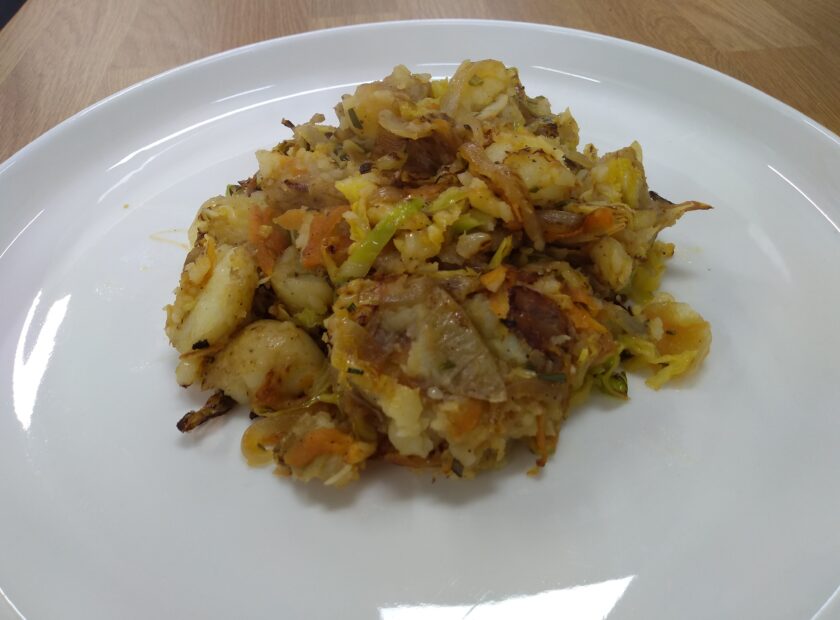 As part of our Plate Up for Fife workshop, our Community Chef Iain shares how to make Bubble and Squeak and Potato and Leek Soup in the latest of his "how to make" series. 
Last month we served up our first Plate Up for Fife workshops. If you couldn't make the workshop here are a couple of seasonal recipes and video tutorials from the night.
Bubble and Squeak
Put the potatoes in a pot and cover with water. Add a tablespoon of salt and bring to the boil.
When the potatoes are just cooked (when you can put a fork in and they feel soft), drain and sit in the colander for later (cook a few more to make soup – see below)
Heat a frying pan on medium heat, add some oil, fry the onions, then add the cabbage and carrots and fry until they are a light golden colour, about 15 minutes
Crush the potatoes into the vegetables, add 2 tablespoons of butter, then increase the heat in the frying pan and gently fold the mixture every few minutes until there is good colour, for about 6 to 8 minutes. Season well with salt and pepper.
You can view a video of how to make it here.
Potato and Leek Soup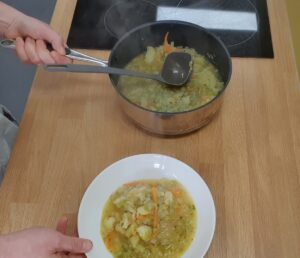 Chop 2 onions, 1 stick of celery and 2 carrots, heat the oil and fry the vegetables on a low heat for 5-10 minutes. Add herbs and/or garlic at this stage for flavour.
Clean and slice the leek (or two small leeks), chop and fry for another 5 minutes. Add a handful of cooked potatoes.
Add 500ml of vegetable stock and bring to the boil, simmer for 10 minutes and taste before seasoning.
You can view a video of how to make it here.
Visit our Recipes and Ideas page for more recipes.
|