#PlasticFreeJuly – 2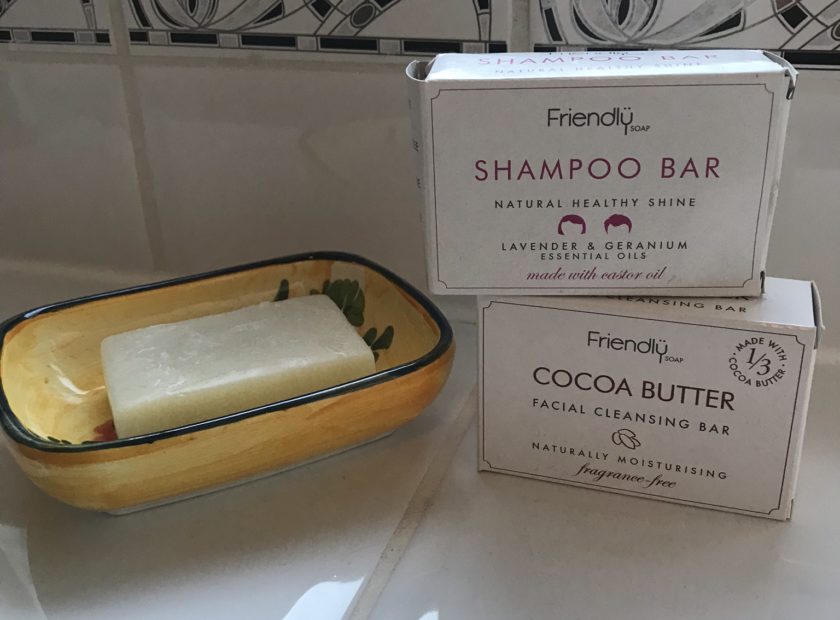 This blog is based around swaps you can make regarding your toiletries and the likes. None of these ideas are revolutionary, actually the opposite. Making decisions to use less plastic often just means going back to basics and back to how people did things in the pre-plastic era.
1.Shampoo/conditioner, shower gels, face wash…
You can pretty much buy any kind of bath/shower essential in bar form now which massively reduces on packaging. There are lots of different brands but I recently tried the Friendly range which you can get quite easily locally or online (shops and sites listed at the bottom of the blog).
The shampoo takes a bit of getting used to as your hair will go through a "transition period". You can look up advice on this, it involves using bicarbonate soda and apple cider rinses to get rid of the chemicals built up from normal shampoos. Sounds bizarre but actually makes your hair feel great.
These bars tend to last about 3x as long as regular shampoo so pretty cost effective! If you want to splash out a bit more, Lush is great for "naked" shampoos and shower gels. A lot of their products that come in tubs come with a deal that if you take 5 empty tubs back they will give you one free so hang on to your empties.
Local shop Health food and More is now also offering refills of shampoo if you don't fancy the bar option
2. Razors

It is estimated that 2 billion razors are thrown away each year worldwide. Most razors you buy in the shops are made from plastic and even if the heads are changeable, the handle will eventually be chucked and you know it is heading to landfill. Try changing to a Safety Razor. Lots of options available and there is a huge variety in price. I went for a cheap one and it does the job fine! This Razor has a bamboo handle and stainless steel head. You buy the razors separately and change the actual blade inside only. The razor was £13 and the blades were £5 for 100…you'd have to be really hairy to get through them in a hurry! Long term it's much cheaper than disposables.
I will warn that as the head doesn't swivel like modern razors, it does take some practice. Take your time or you'll end up missing some skin off your ankles.
3. WIPES!!!
Wipes are found on almost every beach washed up and in every sewer, attaching themselves to the nearest fatberg. Even the wipes marketed as flushable could take 100 years to break down. There is a wipe for every occasion now which is very worrying and totally unnecessary. I recently got these very cute, reusable make up remover pads. It would be very easy to make your own from an old towel or face cloth! I am using some make up remover from lush at the moment but coconut oil is also amazing at removing make up and you can buy this in glass jars for pretty cheap from Aldi's (then reuse the jars for your home made hummous!). There's lots of varieties of these if you don't fancy getting the sewing machine out, I got mine for £5 from ebay. They just go in the washing machine after and come out great.
4. Toothbrushes
There are tonnes of different kinds of bamboo toothbrushes out there now. I've tried a few and the best ones I've had so far are the panda brush. I bought mine a while ago online and I think they were around £2 each but there are a lot of varieties out there so shop around. I know Pillars of Hercules and Health food and more have them in their shops as well.
Some bristles on these toothbrushes are not compostable so it's worth checking this. Mostly this just means you need to remove the bristles (with pliers) before popping the handle into your compost. If you don't have compost there are some great facebook groups aimed at reducing waste and some of the members will be happy to take bits and bobs that you have saved. Try Plastic Free Dunfermline or Zero Waste Fife (just search for this closed group) and you'll get some great help and advice.
Lastly I just wanted to add a little note about feminine hygiene. I know it can be a bit of a taboo subject and I won't go into any gory details but have a look online into menstrual cups and reusable pads if you are interested. A waste – free period is actually very easy to achieve.
There are hundreds of products out there that you can swap too. I even recently got dry shampoo in a cardboard container. I've listed some great websites below where you can find lots of advice and plastic free alternatives.
www.plasticfreedom.co.uk   – This website is run by a woman who still works full time and does an amazing job. Her instagram page is very helpful if you want advice on any of the products on her site.
www.zerowastepathshop.com – Based in Edinburgh, they make their own soaps and shampoos and have lots of other nice products worth a look
Health Food and More – Located on St Clair St in Kirkcaldy. The team here are doing a lot towards plastic reduction. Recently adding refills of kitchen products and toiletries like shampoos. Also stocking shampoo bars, bamboo toothbrushes and plastic free toothpaste!
Cheeky Wipes – reusable wipes for all occasions!
Earthwise Girls – for anyone interested in eco friendly feminine hygiene products
|