Our new door at East Fergus Place has created a warmer welcome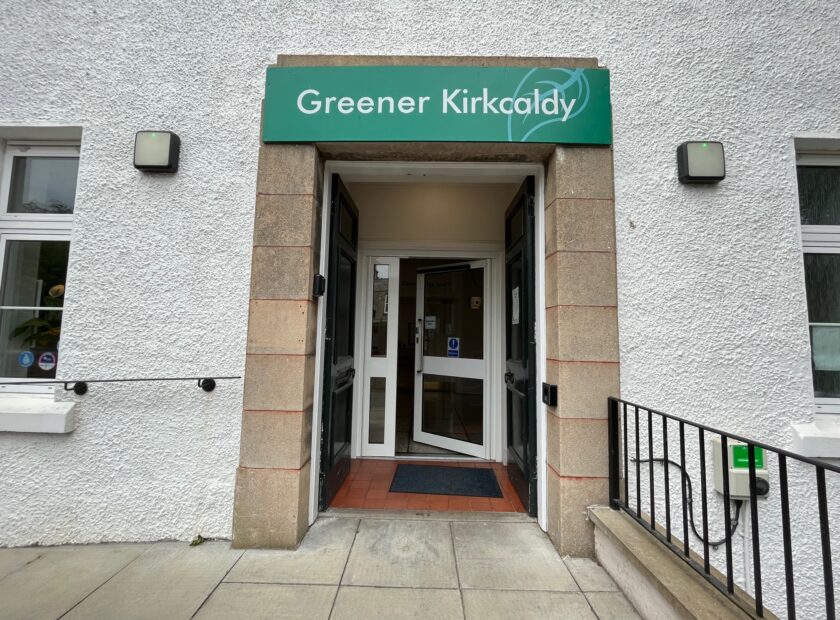 If you have visited our community building recently, you will have used our new automatic front door.
When we moved in to 8 East Fergus Place, we wanted to keep as many original features as possible, including the outer and inner wooden doors. Unfortunately, the inner doors were proving to be a bit of a draughty experience for everyone in our welcome area, especially on cold, windy days.
As part of Greener Kirkcaldy's Climate Action Plan, we identified the draughty front door as a cause for concern. We felt if we could either replace or draughtproof the door, we could reduce our carbon footprint by not having extra heating on in the welcome area.
We asked Zoe Stirton from Stirton Consulting Ltd to carry out an energy survey at our community building. She found that installing a new external door would reduce our gas use by 18%. This would save 4,736kWh and 876 kgCO2e a year. To put this into context, that's the equivalent of driving 3,120 miles.
The door's full glass front, gives a lovely open and welcome feeling as you approach the building. It opens automatically, making it easier for wheelchair users to visit our building.  So, next time you're down our neck of the woods, don't be shy. Pop your head in and say hello. We are always pleased to see you and you will receive a warm welcome!
Dianne Girvan, Office Manager
Help to reduce your own carbon footprint
Through Climate Action Fife we can give advice to small businesses and community organisations in Fife on ways to reduce their energy use. Find out more.
|