Celebrating Greener Kirkcaldy volunteers at the Fife Volunteering and Voluntary Sector Awards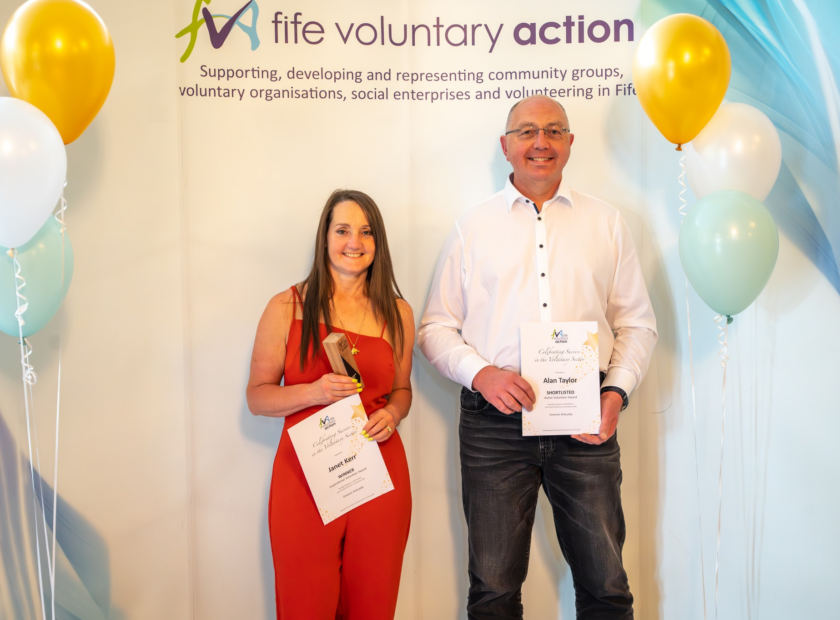 Photo credit: Fife Voluntary Action
On Wednesday 7th June, Greener Kirkcaldy attended Fife Voluntary Action's Volunteering and Voluntary Sector Awards. We were celebrating volunteers Janet Kerr and Alan Taylor, who were shortlisted for awards. Ali Macleod hosted the ceremony at the Glen Pavilion in Dunfermline. Fife's Provost Jim Leishman presented the awards.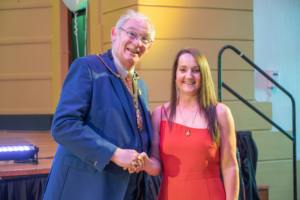 Janet volunteers at the Lang Toun Cycles Community Bike Shop, where she helps to refurbish bikes. Janet was diagnosed at 46 with Parkinson's. This doesn't stop her. She says, "my right side doesn't work properly, I just adapt and establish new ways of doing things."
Janet is one of our most enthusiastic and dependable volunteers. She regularly goes beyond her regular duties, with no task too small. She takes her responsibility seriously and willingly, offering to train as a mechanic.
She has overcome obstacles to complete her Bronze Level Velotech qualification. This is a physically demanding course for any trainee. She now selflessly offers her skills as a qualified mechanic. An amazing accomplishment!
About Alan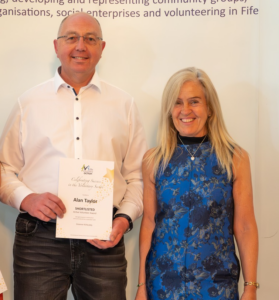 Alan is a volunteer cycle ride leader. He is innovative and creative, suggesting ideas in a constructive gentle manner to help make improvements. Alan takes his role seriously. He shows diligence and he is meticulous with the information we share with him.
He checks each ride in detail to ensure he can lead a ride to the highest standard. Alan goes the extra mile by going beyond his normal role. When we asked for help at a recent e-bike demo Alan was first to say yes. He also generously shares his tremendous local knowledge, making each ride he leads very enjoyable for participants.
Celebrating our volunteers during Volunteers' Week
During Volunteers' Week (1st – 7th June) we celebrated our volunteers on social media
.
A fantastic display at the Volunteering and Voluntary Sector Awards ceremony celebrated volunteers across Fife through photos, messages and quotes. This display was shown at the Mercat Shopping Centre during Volunteers' Week.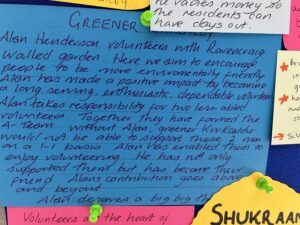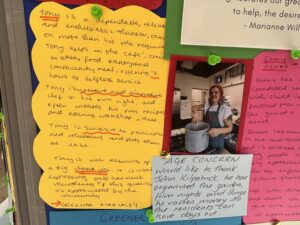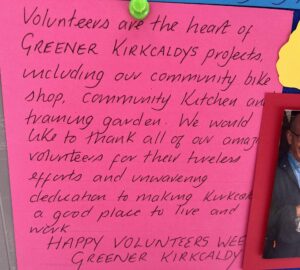 Volunteer with us
More than 100 volunteers support Greener Kirkcaldy's work. They are at the heart of everything we do. Find out how you can get involved.
|