Organic September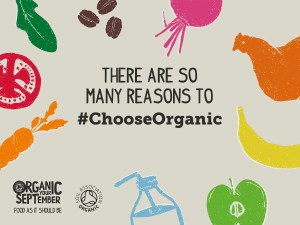 Did you know it's been Organic September? – an annual event from the Soil Association all about celebrating all things organic and shining a light on all the amazing farmers, producers & brands who work hard to produce food as it should be.
Why is organic important?
For me personally, I like eating organic because of the flavour of the food. It's simply better.
In general, people choose to eat organic because fewer pesticides are used and therefore the food and the soil it was grown on is much healthier. Organic food is not made with genetically engineered seeds and is thus considered by most as the best and healthiest option.
Another reason is sustainability. Organic farmers use farming techniques that protect the environment, public health, human communities and animal welfare. This form of agriculture makes us able to produce healthy food without risking future generations' ability to do the same.
How can you be organic?
1. When you buy food, keep an eye out for this logo:
Or check the seller's details on Sopa (Scotland organic producers association)
2. Find a local store or farm
3. Sign up an organic box scheme. You can get a box of organic produce send to your doorstep!
4. Cook your own organic food, click here to get started
5. There are some amazing restaurants and cafes that serve organic food. Find a restaurant or cafe here
6. Spread the word by using the #ChooseOrganic whenever you do anything involving organic food!
|