Volunteer opportunity
Volunteer Climate Champion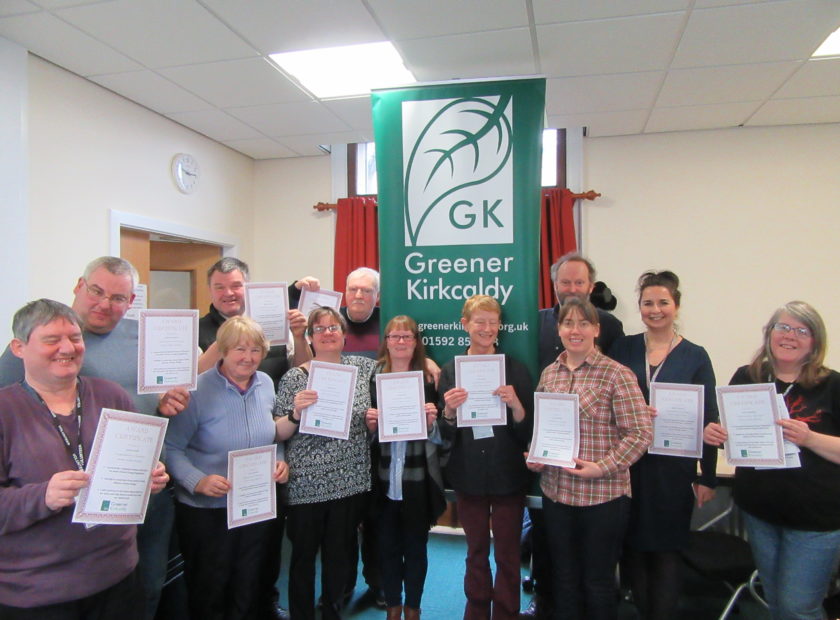 Do you care about climate change? Do you want to help people take action in their local community? Are you able to motivate others?
We are looking for individuals who are passionate about climate issues, about Kirkcaldy and like talking to people. You do not need to be a climate expert (we will provide training to get you up to speed), though a little understanding of how individual choices can impact global warming would be helpful (e.g. driving/flying less, reusing, buying local etc) What is more important is being a passionate communicator, having a desire to get the conversation around climate change going and an ability to inspire others in creative ways.
You will get the experience of working in a dynamic, growing and influential non-profit organisation that is benefiting the environment and making a difference to the lives of people in Fife. You will learn about climate issues, impacts and solutions and enjoy the camaraderie of working as part of a committed team.
This volunteer role is funded by the Scottish Government's Climate Challenge Fund (CCF) as part of our 'Let's move up a gear!' project which aims to promote cycling activities and to run a programme of climate change awareness events.
Main Duties
Our team of Climate Champions will get the climate conversation going in Kirkcaldy and Fife. We need you to inspire people to speak up about climate issues and help them to make climate positive decisions in their everyday lives. We would like you to help design creative ways to engage people and businesses through events, training, written guides and online content.
The role will support in the delivery of Greener Kirkcaldy's varied climate change objectives and will include (but not limited to):
Assisting with design and delivery of climate change events, including our monthly climate café, a series of staycation events (including the return of the famous "Climate Couch") and working with young people to inspire them to take action.
Assisting in delivering Climate Literacy training to local organisations, businesses and the public.
Blog about climate issues and Greener Kirkcaldy's work.
Create inspiring social media content.
Help to design a "Local Low Carbon Living Guide".
Commitment
Varied depending on which activities you are involved in, but likely to be a few days a month. Time commitment would be expected to increase on run-up to and during events.
Activities and events usually take place Monday – Friday, with some evening work if delivering events. We are happy to be flexible to suit you.
2 consecutive days to attend Climate Literacy Training (midweek) on date TBC.
Personal qualities
A good communicator and good listener.
Able to work as part of a team.
Friendly, approachable and welcoming.
Organised, enthusiastic and flexible.
Skills and Knowledge
Some knowledge of climate issues would be useful.
Local knowledge of Kirkcaldy and Fife would be useful.
Support and Training
Full induction will be given.
Carbon Literacy Training certified by the Carbon Literacy Project.
We can provide other relevant training.
We will reimburse reasonable expenses.
Would you like to get involved?
If this is for you, please contact craig@greenerkirkcaldy.org.uk