Volunteer opportunity
Community Food Volunteer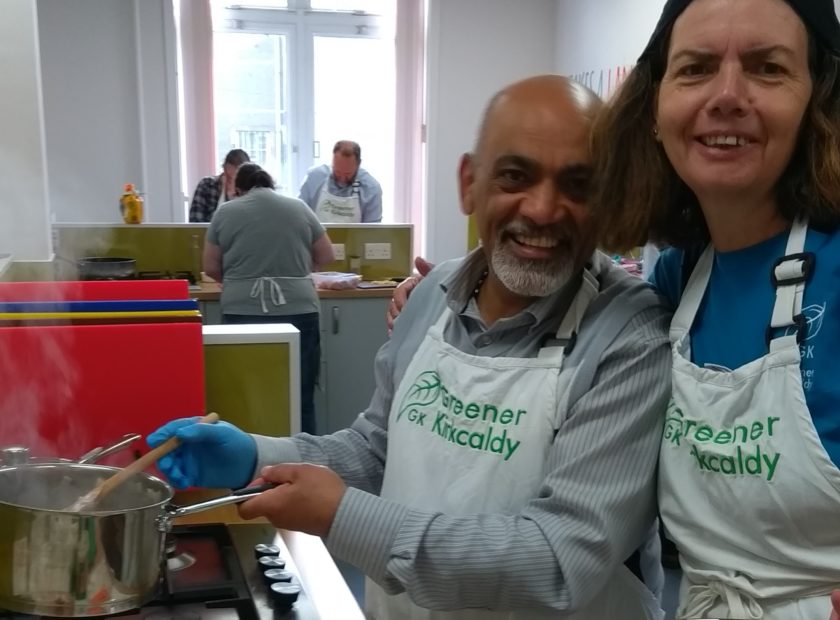 Greener Kirkcaldy has launched The Lang Spoon Community Kitchen. We're running exciting new food and cooking activities, including courses and workshops, community meals, a pop up café, a new lunch club for older people, and more. These activities will run at various times Monday – Saturday, during the day, and in the evening.
We're looking for a team of committed volunteers to:
Lend a hand at courses and workshops
Help us make delicious meals for our local community
Help serve food and make people feel welcome
Help with the washing up
Help to plan other events
Personal qualities
Happy to work in a team
Friendly, approachable and welcoming
Organised, enthusiastic and flexible
Skills and knowledge
Experience or an interest in one or more of the following:
Food and cooking
Being involved in the community
Good communication skills
Support and Training
Full induction will be given
Greener Kirkcaldy will provide REHIS Elementary Food Hygiene training to all volunteers involved as well as on-going training
Commitment
Flexible sessions from one of classes to regular weekly activities to 6- 8-week block programmes.
Volunteers
We have regular volunteer social events which all volunteers are invited to.
Would you like to get involved?
Interested? Please contact Geraldine by emailing geraldine@greenerkirkcaldy.org.uk or phone 01592 858458
Our commitment to volunteers
Volunteers are covered by our insurance and training is provided for free. Our volunteer sessions offer a great sense of working together for a good cause, and most importantly it's great fun! We're also committed to offering a volunteering programme that helps volunteers: meet new people, use existing skills or learn new ones, improve your CV and gain valuable work experience, all while doing your bit to help our local community and the environment.