Leftover Omelette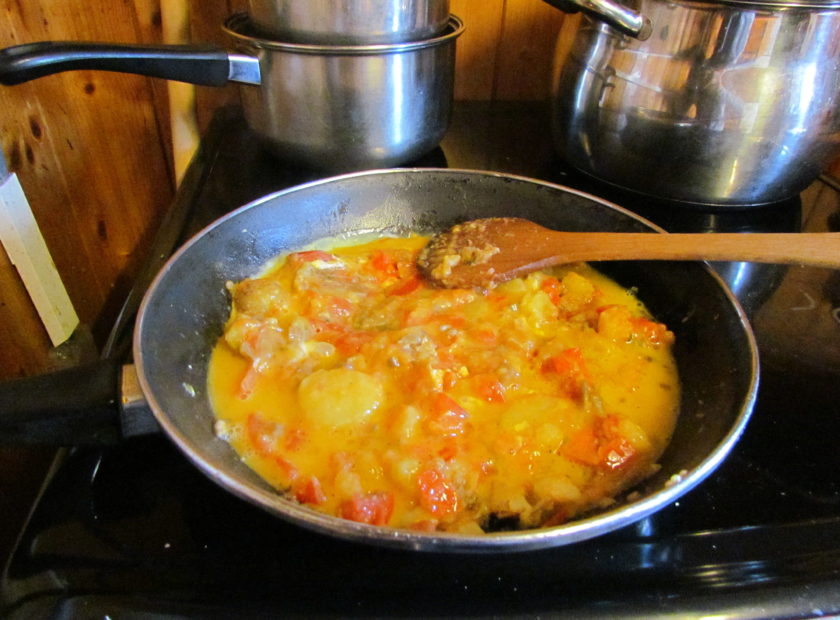 When I find I have some cooked veg leftover from a previous meal and don't know what to do with it or when I open the fridge to find it a little lacking in inspiration, my go-to dish is something I like to call Leftover Omelette which I semi-invented in a rush one day by throwing a few things in a pan with some eggs and salt.
If you're hoping to impress someone with your next meal then you'd best look elsewhere. This dish is far from admirable – just quick, convenient and humbly wholesome for those of us who want no-fuss healthy food that is easily adaptable to whatever you have lying around.
Today's ingredients:
Ingredients:
eggs (probably two per person) – extra brownie points if they are local and have been laid by well-kept hens!
savoury leftovers (cooked veg, breadcrumbs, mashed potato, boiled rice…)
any random veg or mushrooms you have in stock
oil or butter for frying in
salt/pepper
Optional Extras:
herbs and/or spices (thyme and marjoram work well I find)
nuts/seeds
grated cheese
other flavourings, eg soy sauce
Method:
Heat some oil in a frying pan.
Roughly chop leftovers and stick in the frying pan. If you are using raw vegetables, some of them may need to be cooked first: Potato is best boiled in the usual way until it is just done, then drained and sliced thinly. Onions should be roughly chopped and cooked over a low heat in the frying pan (with a lid on if possible to keep in moisture and help prevent burning) and stirred occasionally for about ten minutes or just until soft. Pepper and leek should also be sliced and fried until soft. Tomatoes can be roughly chopped and carrots should be grated and put straight in the pan.
If you're using nuts and seeds, put them in now.
Meanwhile, beat the eggs with any seasoning until thouroughly mixed. Herbs and spices can be mixed in here or you can sprinkle them on later.
Pour the beaten eggs into the pan. Either cook as per a usual omelette, folding in half with optional cheese in the middle when the bottom is set, or cook on a moderately high heat, stirring with a spatula until the egg is scrambled and everything is heated through. Add a little cheese if desired.
And there you have it: a meal in a pan. As long as you have enough carbohydrates and veg in there, it makes a perfectly wholesome stand alone meal. Alternatively, it can be served with bread and/or seasonal salad.
|