Introduction to Home Renewable Energy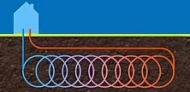 ARCHIVE: August 2010

Tue 24th August, 7pm-9pm
Are you thinking about adding renewable energy to your home? Wondering what financial help is available? Or perhaps you simply want to learn more…
Come along to the Greener Kirkcaldy centre to find out about the range of renewable energy systems that might be suitable for your home, in a friendly informal setting.
We'll give an overview of the technologies (from solar or wind energy to heat pumps and wood fuels) and finance options, and how to find out which is suitable for your home, with plenty of time for questions.
Drinks and nibbles will be provided. There's no need to book – just come along.
|