I'm dreaming of a green Christmas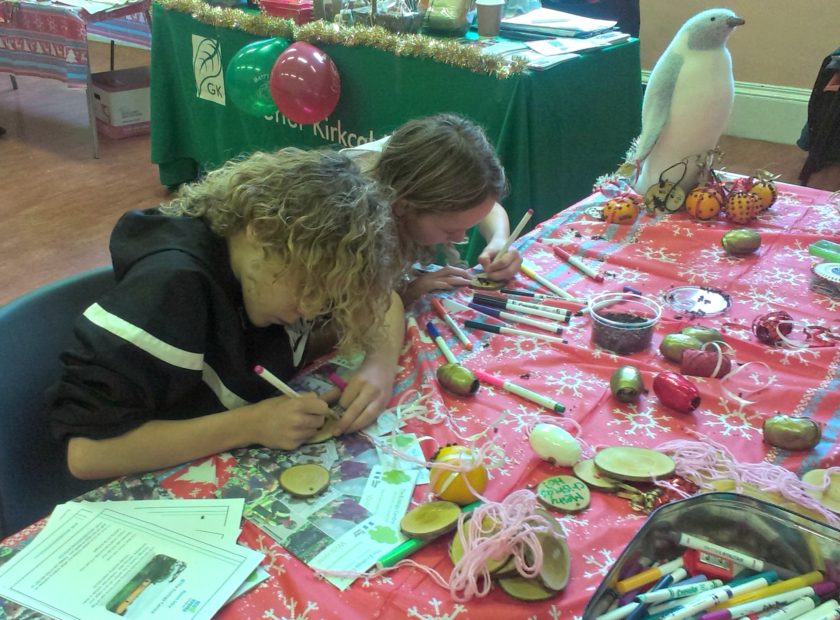 This is a busy time of the year, with lots of food and presents being bought along with decorations and so on.
It is also a time when there is a big drain on the environment. So how can we make our Christmas more Eco friendly?
Decorations
One way can be that you can make some Christmas decorations. There are many things that can be made for Christmas and that are easy to make and do not require many items to make them.
Thanks to the Internet, you can find many sites which have great things that you can make. I really like this one that I found.
I recently attended the Greener Kirkcaldy Christmas fair with my children. They enjoyed making wooden tree decorations (I also joined in and made some decorations)
Instead of buying a real tree that will just die, choose a tree that has still got roots so that it can be used again, or just replanted. However if like me you do have a fake tree, if you have that tree for fifteen years that neutralized the carbon used to make it (My tree will be carbon neutral in 2025)
Presents
Choose more ethical presents,as well as items that have been made locally (At our Eco shop we have a great range of gifts and gift baskets available)
When it comes to wrapping presents you can either buying more Eco friendly wrapping paper, wrapping that can be reused (gift boxes/bags) or using alternative materials for wrapping presents like Furoshiki wrapping using fabric.
Food
Buying locally sourced food. (We offer the service Fife food for Fife folk which offers great locally grown produce as well as ethically sourced food)
Reducing the amount of food that you buy so that there is less food wasted. My mother always fell into the trap that she felt that she needed to buy enough food for a year in the build up to Christmas.
Though one of the most important things about this time of the year is enjoying spending time with friends and family.
|