Computer maintenance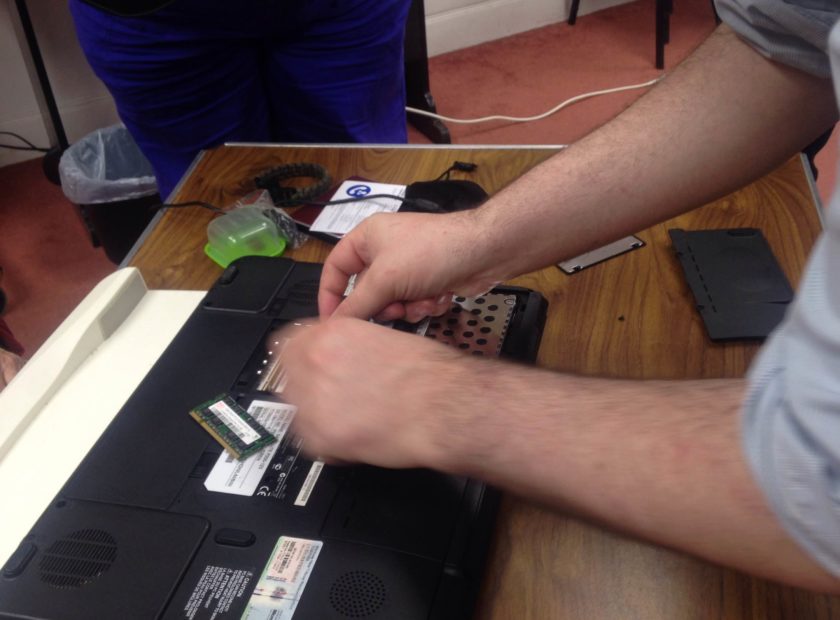 There are many ways to keep your digital device running smoothly. I attended the first two Laptop, tablet and smartphone maintenance workshops run by Greener Kirkcaldy IT experts. This blog is about some of the general tips I picked up. In the same way that everyone has their own clothing style, every computer expert has his/her own way of  maintaining their devices. I also have my own way of doing things. I can take a computer apart completely and put it back together. I build websites for fun and believe I take good care of my equipment. My main rule is be good to your device and it gets you a long way. Do not drop it and keep it clean of dust and excess programs and files of course help out as well.
The classes were very easy to follow and I would recommend them to anyone! The experts give you great tips and there is plenty of time for questions and one-to-one help.
Here are some of the tips  that I picked up.
Main things to keep an eye on:
Dust builds up and can damage circuits so keep your device clean.
Ports can be fragile so take care when moving USB sticks when they are in your device.
Moving your device when on can damage your system (laptop and computers).
Try to charge battery when not in use rather then leaving it plugged in when using.

Turn off unnecessary programmes when you're not using them, this will save you energy and help your device run faster.
Security tips:
Secure your device with a password that is not easy to guess like your birthday or pet's name.
Back up your data using the rule of 3 – online, offline and on the device.
Get a good anti-virus programme. Now this is where opinion varies, what is good? Some choose to pay for it others feel free is just as good. But whether you pay for it or not you should at least get one. Don't forget that these days with phones going online, they too need some form of security.
Have a malware program to help protect you from malware infections too.
Keep all safety software up to date.
Online security tips:
Be wary of strange emails even if they come from friends.

Do not click on popups, no matter how interesting they seem.
Watch what you are installing when downloading programmes online  – you may be also installing toolbars/extra programmes that you don't need.
Your phone is also at risk so be aware of what you click while using internet/email.
Clean up your internet cookies and history at least once a month.
Cleaning up your system: 
Laptop and computer's only
There are lots of ways to improve speed and space on your laptops and PC's.
Basic IT tasks such as 'defragmenting disks', turning off programmes and removing history and cookies can help. Find out from an expert how you can do this.
For all devices
Clean up space by removing unnecessary programmes and apps.
Remove unnecessary documents and photos from devices and save them on external disks for safekeeping.
Upgrading your device
If you take good care of your device it should last you at least 3 to 4 years. Before thinking about replacing a device, check if some expert maintenance could keep it going a bit longer.
For a laptop there are some options. Most laptops should last 5 to 6 years at least with no issues. Compare the cost of an upgrade to a new one and make your choice. Devices are getting smaller and thinner and that makes updating the hardware trickier.
When it comes to a desktop there are a lot of options to upgrade. If you have the skills you could do it yourself of have it done by any computer shop/expert.  After 10 years of trusted use it might be more valuable to get an entire new system. Just weigh the costs against each other when again it does not do what you need it to.
Software updates:
Keep your drivers and programs up to date by downloading the most recent updates. Most programmes will tell you when there is a new upgrade. Just make sure that you do not also install unnecessary bits. Un-tick the box before clicking next. Before updating software find out if your device is strong enough to run it.
Greener Kirkcaldy will be running their next Laptop, Tablet and Smartphone Maintenance Workshop on Monday 18 January 6pm-8pm at St Bryce Kirk Centre. Booking is required for this workshop, please call 01592 858458, e-mail info@greenerkirkcaldy.org.uk or pop into our High Street at 252a High Street, Kirkcaldy Wednesday to Saturday 10am – 4pm.
|