Gifts and gift baskets from the Eco Shop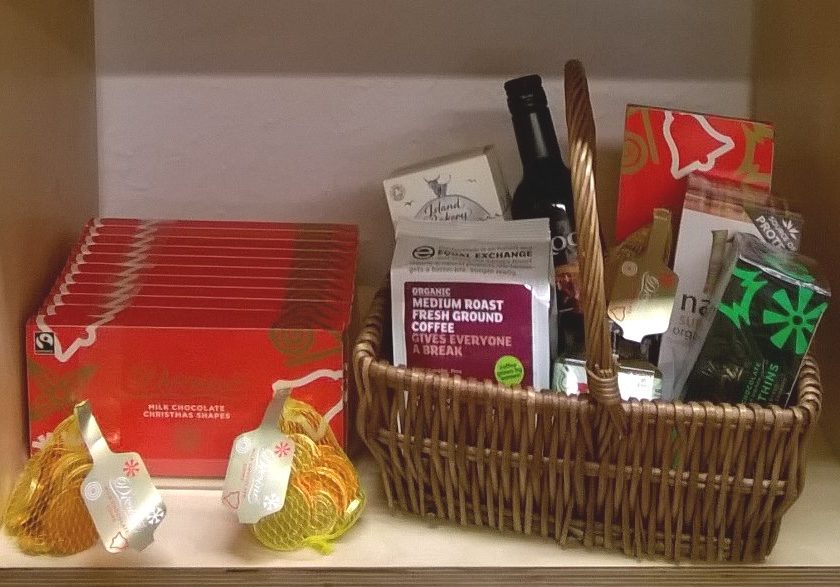 Our Ethical gift bags and hampers make the perfect gift or Christmas present. Each hamper is full of carefully chosen products, including the best of local, organic and fair trade food and drink and beautifully presented in a reusable willow basket or hamper, wrapped and ribboned to make them ready for gifting.
This year our selection of hampers and gift bags include:
Family Festive Favourites Hamper – £22.50
Bottle of Rocks Organic Spiced Fruit Punch (360 ml)
Zapatista 100% Arabica Coffee – an Organic and Fair Trade Ground coffee from  small coffee producers Cafe Rebelde (250g)
Two bars of Montezuma Organic and Fairly-Traded Chocolate – Orange and Geranium Dark Chocolate and Butterscotch Dark-Side Milk Chocolate (100g each)
Fair Trade Chocolate Cookies from Traidcraft (180g)
Divine Fair Trade Milk Chocolate Coins
Presented wrapped and ribboned in a large re-usable willow Gift Basket
Local Winter Warmer Gift Set – £15
Jar of local honey from West Fife Honey (227g)
Handmade beeswax candle from West Fife Honey
Dried chillis from Fife Chilli Farm, Chillilicious (25g)
Your choice of chilli chutney from Fife Chilli Farm, Chillilicious (approx. 290g)
Presented wrapped and ribboned in a willow basket
If you'd like a personalised gift, simply choose your basket and products from our shelves and we will build you a bespoke Hamper in store.
Our Christmas food, gifts, and chocolates will be available in Eco Shop from November, so be sure to pop in to stock-up on ethical stocking fillers.
The shop is at 254a High St, and is open every Wednesday to Saturday from 10am til 4pm.
|