Getting started with reusable nappies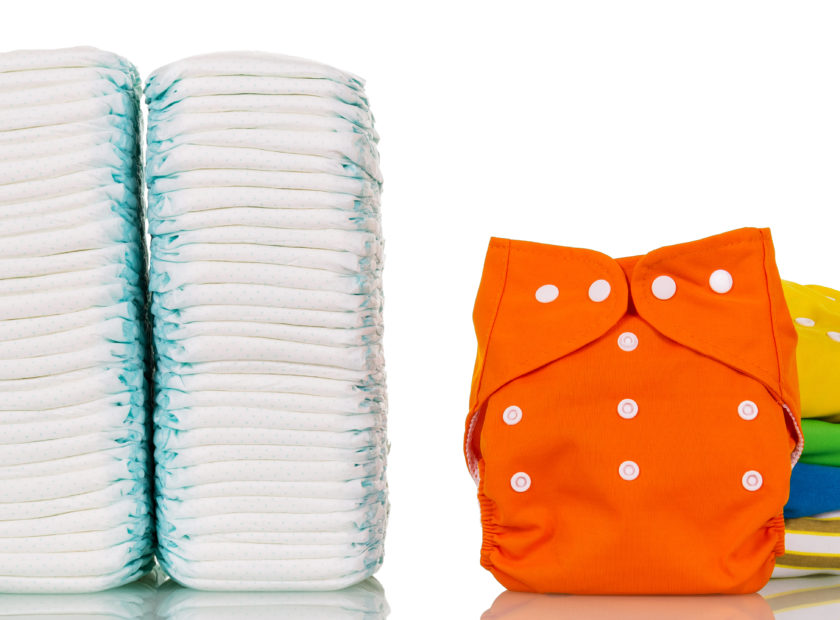 As a parent-to-be I have spent a lot of my lockdown time researching baby related issues. How is baby going to arrive? Where do I find online antenatal classes? What name do we choose? How can something so small require so much stuff?!
At the top of the list of stuff is nappies! And as a member of "Team Green" I am of course drawn to using re-usable nappies (also known as real, cloth or washable). What a confusing world this is – so many options, brands and opinions. Here I will try to explain the benefits of real nappies and signpost you to resources that I have found useful.
What is the impact of disposable nappies?
According to Friends of the Earth Scotland, 450,000 disposable nappies a day go to landfill in Scotland, that's 160 million per year. Add the rest of the UK and that number jumps to 8 million a day and a massive 3 billion a year! These nappies contain plastic, chemicals and…well, you know what else they contain!, which will sit, leaking micro-plastics, in landfill for decades.
What are the benefits of using cloth nappies?
 Save you money  – The upfront cost of using real nappies is of course greater than disposables, but in the long term, the savings can be large. Changeworks estimate that you can save between £600 – £800 by using cloth rather than disposables nappies until your child is potty trained. You can save even more by buying second-hand and by using the same nappies with subsequent children.
Easy to use and clean – Like disposables, modern cloth nappies, are shaped to fit, have elasticated legs and waist to avoid leaks and fasten with Velcro or poppers – not a safety pin in sight! Some can even be adjusted to fit from birth all the way to potty training. Many people use reusable nappies flexibly, for example switching from reusable during the day to disposables at night. Reusables are machine washable and can be line dried.
 Comfort – Cloth nappies are comfortable and dry, provide cushioning and do not contain dyes, perfumes or absorbency chemicals. Having soft material next to your baby's skin can reduce nappy rash.
Reduce waste and help the environment – WRAP estimate that by the time a baby is potty trained, they could have used as many as 6000 disposable nappies. In comparison, the same baby would only need around 20 to 30 real nappies (which of course could be used by any siblings that come along later). Changing to reusable nappies would allow the average family with babies to halve their household waste.
It is important to note, however, that your environmental do-gooding does not stop with the purchase of the nappies.  An Environment Agency report from 2008 found that it is consumer behaviour after purchase that determines the eco-friendliness of going reusable. How you launder and dry your nappies is very important (that machine is going to be running non-stop!). Minimise your nappies' carbon footprint by:
 Line drying outside whenever possible.
Tumble drying as little as possible.
When replacing appliances, choosing more energy efficient appliances (A+ rated).
Not washing above 60°C.
Washing fuller loads.
Reusing nappies on other children.
Where to find information
Real Nappies Guide
Changeworks' Real Nappies Guide is full of information to help you get started with real nappies, with details of types, costs, where to buy real nappies and starter kits and where to find out more. The guide (page 10) also gives details of their subsidised reusable nappy starter kits available to those who live in Edinburgh, Tweeddale and Burntisland.
Fife Real Nappy Library
The Fife Real Nappy Library is based in Kirkcaldy and runs monthly (Nappucino) events, demonstrations/try outs and loans out nappy kits.  UK Nappy Network website allows you to find a nappy library near you and provides a nappy glossary, as well as guides on nappy fit and washing. Please note that during the Covid-19 epidemic, the Fife Nappy Library has cancelled all events.
Go Real! The Nappy Information Service
Go Real! The Real Nappy Information Service is recommended by WRAP as a good source of information, however at present they seem to be undergoing a relaunch. So, maybe one for the future?
Facebook
There are also many Facebook support groups for parents – just search for "real nappy" and find one that suits you. The table below was shared with me through a nappy Facebook group and explains some of the pros and cons of the different nappy types.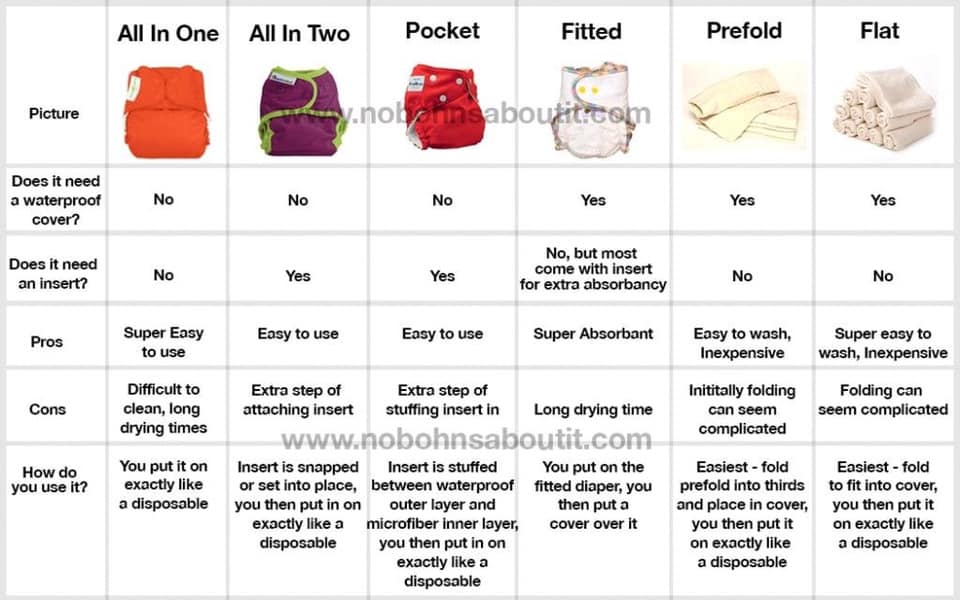 Where to buy?
(I have no affiliation to any company or brand – this is just a personal view of what I have found useful!)
Online
There are many real nappy companies and retailers to choose from, all with fantastically cute, funny and creative names ("Tots Bots" and "Fill Your Pants" are my favourites!). Their websites all provide information to help you decide what is right for you and how to best use their products. You just have to find one that connects with you. Changeworks' Real Nappies Guide has a list of online retailers on page 11.
Second-hand
As well as buying new, there are plenty of places where you can buy second-hand, which will hugely reduce your initial outlay. The Real Nappies Guide lists a few second hand retailers and there are many peoples selling nappies on Ebay and Gumtree too.
You can get all sorts of second hand baby and child equipment at Jack and Jill Markets and Mum2Mum Markets, which are held all across Scotland, including Kirkcaldy. You pay a couple of pounds entry, but can save loads on everything you will  need, including nappies, clothes, toys, prams, car seats and care equipment. These markets are on hold at the time of writing due to the Covid-19 epidemic.
My Experience
My personal experience has been with The Nappy Lady. My partner and I found The Nappy Lady's (very thorough) questionnaire service to be very useful. You provide information about you, your baby, your needs and what issues are important to you, e.g. drying speed, organic, looks, environmental impact etc. The advisers then come back with a number of options that match your needs. As complete newbies, we also found her Facebook Live demonstration of different nappy products very useful (see below).
Happy Changing!
I hope you found this blog useful and that it will help you to cross one more thing off your long preparation list, it has certainly helped me in writing it. All the best and good luck with your new arrivals!
If you are on low income and struggling with the cost of nappies or other living costs, you may be able to access support from the Scottish Welfare Fund.
|