Veganuary – My journey to greener cooking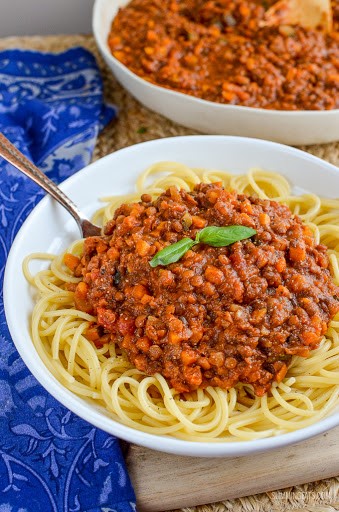 Over half a million people have taken the pledge to eat a more plant-based diet this January. Inspired by Veganuary, our Community Chef Iain McLellan reflects on his journey towards a new way of cooking.
"In January 2022 I will have been part of the Greener Kirkcaldy Community Food Team for two years. As a professional chef for over twenty years, I have always taken pride in cooking the best food for all dietary requirements, be it through choice or allergy. Now I feel that my food understanding has moved in a direction that is more focused on plant-based cooking. Working at Greener Kirkcaldy has given me the opportunity to develop my skills whilst allowing me to try new approaches with familiar dishes. Substituting meat and dairy with plant-based ingredients can lead to exciting and delicious dishes. I've found that these alterations have not made the dishes any less tasty, and have often enhanced the dish, giving it more appeal."
A good example of substituting meat with plant-based ingredients is Iain's Cauliflower Satay. A marinated and roasted cauliflower replaces the chicken, giving the dish an interesting and new feel.
Roasted Cauliflower with Satay Sauce
Larger and firmer at this time of the year, the cauliflower is perfect for roasting. This method of cooking intensifies the flavour and gives it a nice, crispy texture. The addition of a little lime zest and juice gives it a tangy flavour.
Roasted Cauliflower
1 large cauliflower
4 tbsp of sesame or vegetable oil

2 limes
1/2 a chopped chilli (remove the seeds if you would like it mild)
Satay Sauce
2 tbsp of vegetable or sesame oil
1 large onion, chopped fine
3 cloves of garlic (chopped or 1 tsp of paste)
1 tbsp of ginger (chopped or 1 tsp of paste)
1 small green chilli, chopped (add more if you like it spicy!)
3 tbsp soy sauce, or to taste
1 tin of coconut milk
2 heaped tbsp of peanut butter ('crunchy' is good for texture)
1 bunch fresh coriander, chopped
a few whole peanuts
Method
Preheat the oven to 170C.
Prepare the cauliflower by cutting it into large florets, remove the core and keep it for roasting.
Place the cauliflower in a bowl and season with a large pinch of salt, three to four tbsps. of oil, the juice and zest of a lime, and finish with some chopped chilli (optional). Toss well to make sure the cauliflower is evenly coated.
Transfer to a ovenproof dish and roast it for 45 minutes, turning every 15 minutes.
Add more oil if it starts to dry out.
It's ready when it is golden brown and you can push a knife through the stalk with ease.
To make the Satay Sauce:
Heat the oil in the pan, and fry the onion and garlic over a medium heat for 10 minutes, until softened.
Add the ginger and chilli and fry for 5 minutes (be careful not to burn it).
Add the soy sauce and coconut milk, cook until bubbling.
At the end, add the peanut butter . Keep stirring until it is mixed in.
Serve the sauce with the roasted cauliflower and garnish with coriander and peanuts.
Lentil Bolognese
Another dish that works well without meat is lentil bolognese. This can be served as a base for lasagne, or simply with some pasta.
Ingredients:
1 tbsp oil
2 onions, diced
4 garlic cloves, crushed or chopped
1 carrot, diced or grated
1 tsp of fresh or dried herbs (rosemary, thyme, basil or mixed herbs)
A pinch smoked paprika
200g red lentils
1 tin of chopped tomatoes
2 tbsp tomato puree
400mls vegetable stock
½ tsp nutritional yeast (optional)
Method
Heat the oil and fry your onions and garlic
Add the carrot (you could also add other vegetables like mushrooms and courgette at this stage).
Add a pinch of smoked paprika and the herbs.
Cook until the onion is softened, then add the lentils.
Add the tomato puree and chopped tomatoes, then the stock. You can add the nutritional yeast here, if using.
Bring to the boil and simmer for 20 minutes until the lentils are tender.
Season with salt and pepper.
For added flavour, Parmesan cheese is often added to finish a dish like this. If you are avoiding dairy, a splash of olive oil works well. Hard cheese like parmesan has a high carbon footprint needing 16 litres of milk to make 1 kilo of parmesan. We like to make an alternative made with nuts and nutritional yeast. You still get a cheese taste in this recipe.
Fake Parmesan
90g raw cashew nuts
9g nutritional yeast
¾ tsp salt
¼ tsp garlic salt
Method
Soak the cashew nuts overnight in water.
Drain thoroughly and place in a food processor.
Add the rest of the ingredients.
Blend until you get a crumb like texture.
Adjust the ingredients to suit your taste,
Sprinkle on your bolognese before serving.
Any leftovers will keep in a an airtight tub in the fridge.
Find out more about Veganuary at veganuary.com
|