Fantastic Food Works!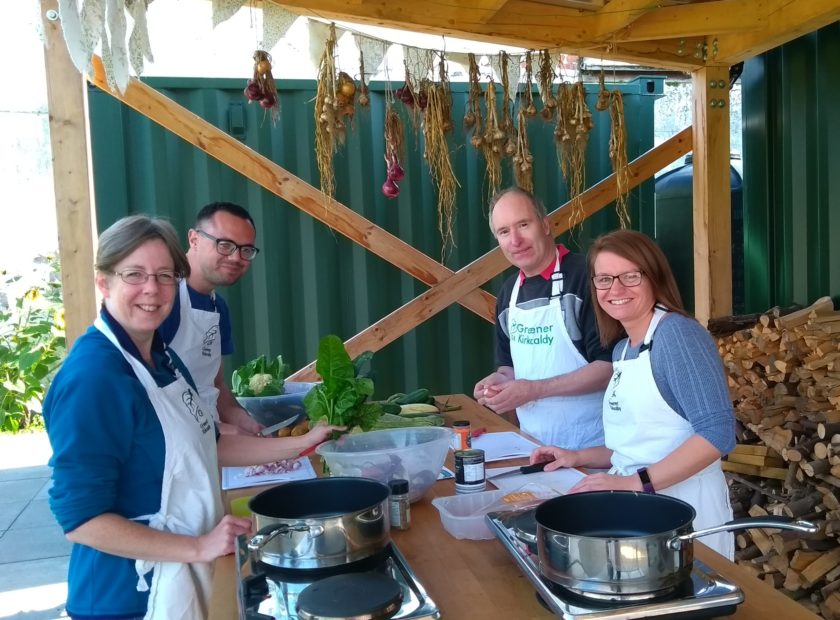 Five participants took part in this year's Food Works! programme starting in August and finishing in October. The course involved growing food, cooking and exploring further training, volunteering and employment opportunities, including a class with a chef from Fife College. For the first time, one of our current community food volunteers (and last year's Food Works! participant) assisted Greener Kirkcaldy staff with this programme.
Our afternoon sessions in our community training garden and orchard at Ravenscraig Walled Garden involved practical growing skills and learning about soil, seeds and local fruit. We then used vegetables, fruit and herbs from the garden in our cooking sessions in the training cabin (and even outside on warmer days!).
As well as cooking with local food using a variety of cooking techniques, the participants completed three REHIS qualifications in elementary cooking skills, food hygiene and food and health led by the Fife Community Food Team. All of these certificates will help with future volunteering and employment opportunities.
One of the highlights of the programme was getting to cook with a chef at Fife College. This provided a chance to cook with meat, learn more about the science of cooking and knife skills. The participants prepared homemade hamburgers, french style onion rings and 'chiffonade' lettuce in the College kitchen.
Other activities included study visits to Pillars of Hercules near Falkland and Kettle Produce Ltd.  We were able to see two types of farming – a smallholding and a large-scale farm providing vegetables for supermarkets. We had a visit from Fife Training and Employability Consortium offering support for finding jobs and placements. Fife College also gave us a tour of their kitchens which inspired a couple of our participants to study at the College!
|