Fairtrade Recipes

Climate, Fairtrade and You is the theme of this year's Fairtrade Fortnight. Development worker Jackie shares some yummy recipes that use Fairtrade ingredients.
Fairtrade Fortnight is an annual event that highlights the stories of people who grow some of our favourite food and drinks like chocolate, bananas, tea and coffee. This year, the focus is on Climate Change and how farmers are adapting to the climate crisis, especially in vulnerable countries facing storms, droughts, floods and crop disease. The Fairtrade movement is about social, economic and environmental justice and is working really hard to support farmers and communities, plant trees, use less pesticide, and increase biodiversity.
COVID has shown us just how interconnected the world is. It is important to know where our food comes from, how it is grown and whether people are being paid a fair price for their products and our shopping choices are a good way to support producers across the world. Shops in Kirkcaldy such as Health Food and More on St. Clair Street, as well as the Co-op, Sainsbury's, Morrisons, Aldi and Lidl sell Fairtrade chocolate, sugar, tea, coffee, bananas and other products (and a lot of places sell Ben and Jerry's ice cream!). Here are some recipes that use Fairtrade products – just look for the label!
Cappuccino cupcakes
Ingredients
For the cupcakes:
2 tsp Fairtrade instant coffee (decaf coffee works too!)
175g unsalted butter
175g Fairtrade golden caster sugar
3 eggs, beaten
175g self-raising flour
2 tbsp semi-skimmed milk
For the topping:
2 tsp Fairtrade instant coffee
100g unsalted butter
150g Fairtrade icing sugar
1 tbsp Fairtrade cocoa powder
Method
Preheat the oven to 180°C/fan 160°C/Gas 4 and line a cupcake tin with paper cases
Mix the coffee with 1 tbsp boiling water and then leave to cool
Cream the butter and sugar until pale and fluffy
Add the coffee and beat again, gradually adding the eggs, along with a little of the flour
Add the milk and remaining flour and mix together
Spoon into the cases and bake for 10-15 mins, until a knife inserted comes out clean
Take out of the tin and cool on a wire rack
Meanwhile, mix the coffee for the topping with 1 tsp boiling water, then cool
Beat the butter, sugar and coffee together to make the icing
Spoon on top of the cakes and dust with the cocoa powder
Banana and chocolate brownies
As well as using Fairtrade ingredients, this is a good recipe for using brown bananas and reducing our food waste!
Ingredients (9 square slices)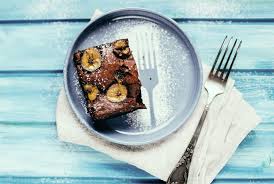 200 grams dark Fairtrade chocolate
5 tablespoons coconut oil, plus extra for greasing (vegetable oil will be fine as an alternative)
170 grams self-raising flour
3 heaped teaspoons Fairtrade cocoa powder
180 grams sugar (coconut sugar works well)
2 brown bananas (mashed)
230 millilitre milk (oat milk works well in this recipe)
200 grams walnuts (optional, use a different nut if that is what you have)
Pinch of sea salt
Method 
Preheat the oven to 180 Celsius. Line a square baking tin (roughly 18 centimetres) with greaseproof paper and grease with a little oil.
Place a heatproof bowl over a pan of simmering water, making sure the base doesn't touch the water. Break 150 grams of the chocolate and all of the coconut oil into the bowl and allow it to melt then set aside to cool slightly.
Meanwhile, sieve the flour and cocoa powder into a large bowl, then stir in the sugar and a pinch of salt. Stir in the coconut oil and melted chocolate, milk and mashed banana until combined.
Roughly chop and stir in the remaining chocolate and most of the walnuts, reserving a few for the top. Pour the mixture into the prepared tin, spreading it out evenly. Sprinkle over the remaining walnuts, then place into the oven for 25 minutes, or until cooked on the outside, but still gooey in the middle.
Leave to cool for around 5 minutes, turn out onto a wire cooling rack, then serve.
(Credits: recipe and photo from Hubbub: https://www.hubbub.org.uk/banana-and-chocolate-brownies)
|