Face masks – how can we reduce the environmental impact?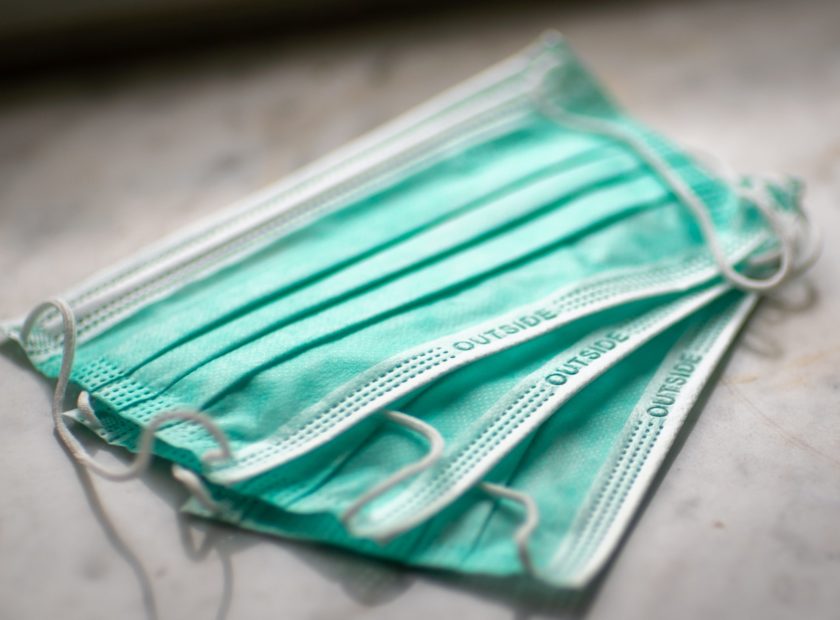 Greener Kirkcaldy Vice Chair Pat Crosbie considers the environmental impact of disposable face masks and suggest ways in which we can reduce mask waste.
The wearing of face coverings or face masks is now required in Scotland in most indoor places including on public transport. In addition, from 31st August, Scottish secondary school pupils will have to wear face coverings while moving around schools and on buses.
Even before face coverings became compulsory, disposable masks were causing a litter problem on both land and sea (please do not dispose of them down the toilet or in drains). According to The Plastic Waste Innovation Hub, if every person in the UK used one disposable mask each day for a year, this would create 66,000 tons of contaminated waste which cannot be recycled and 57,000 tons of plastic packaging – a total of over 128,000 tons. To give this a context, 304,000 people aged 15 – 75+ live in Fife. If each person of these used one disposable mask per day, for five days a week, the total number of masks used and discarded would be 79,040,000! Most disposable masks cannot be recycled and must not be disposed of in a recycling bin.
Most disposable masks are made from a fabric based on the plastic polypropylene, which can persist in the environment for decades. One mask can produce millions of plastic particles. Without careful use and disposal, the impact on our environment will be huge.
What can we do?
The environmental impact of domestic face masks reduces considerably if reusable masks are used. However, some reusable masks are designed to use filters, and this can increase their overall environmental impact. A University College London study found that machine washing reusable masks without filters had the least environmental impact. Surprisingly, even taking into account the amount of energy the washing machine uses, handwashing increased the environmental impact because it uses more hot water and detergent than machine washing. Disposable filters increase the environmental impact because they are made of plastic similar to the disposable masks.
We can do the following
The wearing of face coverings or masks is likely to continue for some time. We all have to think about how we can keep ourselves and others safe and continue to reduce our use of plastic. We should think about the following:
Use reusable masks without disposable filters. Machine wash them regularly
Try to carry a spare so if something goes wrong with the one you're wearing you don't need to use or buy a disposable mask
If you do need to use a disposable mask, take it home and put it into a bin with a lid. If this isn't possible, place it in a proper public bin.
Don't put disposable masks in the recycling. They can get caught in specialist recycling equipment and can be a potential biohazard to waste workers
Do not flush disposable masks down the toilet
Think of masks as a fashion statement – make your own using bright attractive material and give them as presents
References:
1. Scottish Government guidelines on face coverings:
https://www.gov.scot/publications/coronavirus-covid-19-phase-3-staying-safe-and-protecting-others/pages/face-coverings/
2 Innovation Hub:
https://d2zly2hmrfvxc0.cloudfront.net/Covid19-Masks-Plastic-Waste-Policy-Briefing.final.pdf?time=20200424170934&focal=none
3 Coronavirus face masks: https://theconversation.com/coronavirus-face-masks-an-environmental-disaster-that-might-last-generations-144328 
4 Make your own face mask:
https://www.greenpeace.org/new-zealand/story/how-to-make-an-upcycled-reusable-fabric-covid-mask-and-avoid-plastic-pollution/
|