Exploring Kirkcaldy's Quirky Past during National Walking Month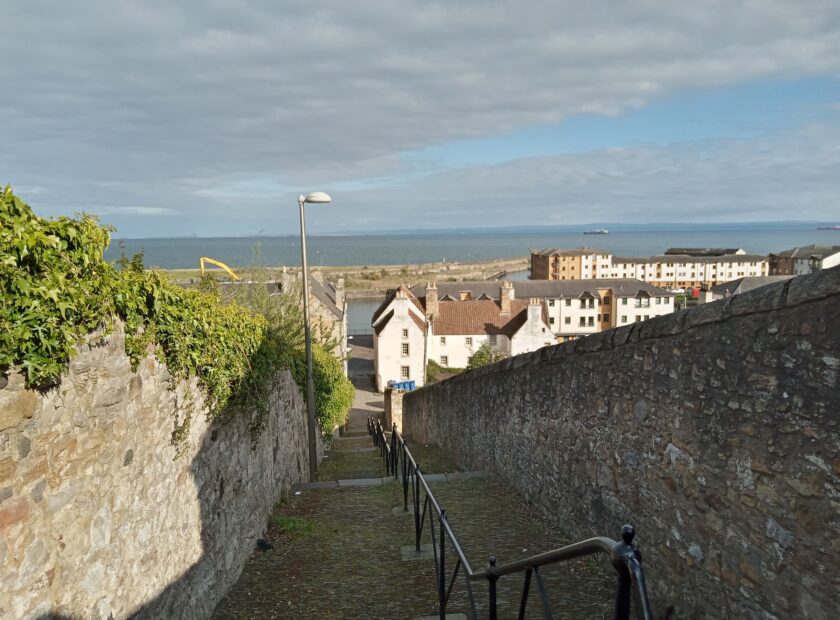 Our Media Volunteer Barbara explores Kirkcaldy's past during a walk around town as part of National Walking Month.
May is National Walking Month, and I've been out and about in Kirkcaldy High Street, discovering some of its wonderful old buildings and historical landmarks.
Walking is good for body and mind, so I decided to combine my love of walking with my interest in local history and take a whistle-stop tour of the High Street.
Kirkcaldy is a town with unique character and a rich heritage, and along the High Street, I discovered some of Kirkcaldy's most notable landmarks and a couple of its quirkiest buildings.
Kirkcaldy Old Kirk and Graveyard
The old Kirk and Graveyard are accessed via Kirk Wynd, just off the High Street (there is a separate, accessible entrance at Oswald's Wynd). The Kirk is over 800 years old.  The site is managed by Kirkcaldy Old Kirk Trust, who purchased the Kirk after it was closed as a place of worship by the Church of Scotland, in order to preserve its heritage.  The building is now used as a community resource and Heritage Centre.  The graveyard is open to the public and the grounds are well maintained, with a little garden area.
| | |
| --- | --- |
| Entrance from Kirk Wynd | |
There are over 300 gravestones, and some of Kirkcaldy's most well-known people are buried here.  A plaque near the Oswald's Wynd entrance provides a map of some of the most notable headstones, including that of Michael Nairn, the renowned floor manufacturer, who helped make Kirkcaldy the linoleum capital of the world.
| | |
| --- | --- |
| Grave of Michael Nairn | |
Records are maintained by Kirkcaldy Old Kirk Trust and Kirkcaldy Civic Society. More information is available on their websites.
Adam Smith Close
This little close is accessed directly off the High Street.  The close is narrow but accessible and has been restored to include a timeline highlighting the key events in the life of one of Kirkcaldy's most celebrated figures.  The close leads down to the restored Heritage Centre at No.1 Adam Smith Close.  The Heritage Centre is the home of Adam Smith Global Foundation which celebrates the life and work of the distinguished philosopher and pioneer of modern economics. The building is located at the foot of what was Adam Smith's garden. The Heritage Centre is open to anyone who is interested in finding out more about Adam Smith, but members of the public should check with them directly to find out when they are open during COVID.
Law's Close/Merchant's House
Merchant's House can be accessed through Law's Close, off the High Street.  This quirky old building dates back over 500 years and has undergone significant restoration by Scottish Historic Buildings Trust.  It is now a Category A listed building and one of the best-preserved buildings of its type.  The interior of the building is beautifully maintained and includes many features of a 16th Century townhouse, including painted beam ceilings and timber panelling.
| | |
| --- | --- |
| View of the building from Law's Close | View from the garden area |
The building is partially let out as office space, but also includes an Education Room, which is open to the public, and includes a small exhibition of the restoration work that was carried out.  The grounds of the house include a charming Community garden accessed via a restored staircase, which was designed by Kirkcaldy Riggs Garden Project, and a picnic area.  Both are accessible to the public.
| | |
| --- | --- |
| Community garden at the back of Merchant's House | Picnic area |
Sailors' Walk
Sailor's Walk is a group of houses situated across from Kirkcaldy Harbour.  Originally two buildings, built in the 16th Century, they are the oldest houses in Kirkcaldy.  They were restored in the 1950s by the National Trust for Scotland and are now listed buildings. The exterior of the buildings maintain some of the original features of a 16th century townhouse, although the restoration work was done some time ago.
The buildings have an illustrious past; Charles II stayed in one of them while visiting Scotland in 1650, after his Coronation.  They are now residential and commercial properties.  Malcolm's Wynd provides access to the back of the buildings where there is a private car park for residents only, and further up the staircase on Malcolm's Wynd, there is access to a green space behind the buildings, which is accessible to the public and includes a picnic table and art installation.
| | |
| --- | --- |
| Greenspace at the back of the buildings | Art installation |
A walk up to the top of the staircase on Malcolm's Wynd provides views of Kirkcaldy Harbour.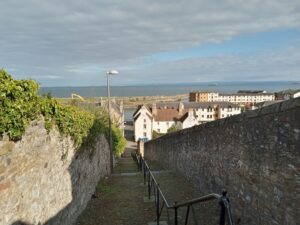 The Lang Toun has a rich and fascinating past and a wealth of places to visit and enjoy.  These are just a few of my favourites.  So, whether you like historical sites, green spaces or quirky old buildings, full of character, why not get out and about this May, and discover Kirkcaldy's quirky past for yourself?
|