European week of waste reduction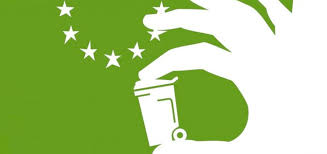 November 19th – 27th is European Week for Waste Reduction.This is where organisations, businesses, schools and individuals are encouraged work toward reducing the amount of waste they produce.
Why do we need to reduce the amount of waste we produce?
Firstly, there is only so much space in landfill for waste products. Once there is nowhere for the waste to go, we'll have to find something else to do with waste products. Landfill sites are also bad for the environment, causing pollution to the environment by contaminating ground water and aquifers (an underground layer of water-bearing permeable rock), contaminating soil and producing methane. Methane is a greenhouse gas, and is 21 times more powerful than carbon dioxide. Greenhouse gasses are said to be the leading cause of global warming. And while in the last few years, the amount of waste going to landfill has reduced. It is however very important to ensure that we keep working on reducing waste that goes into landfill as much as possible.
Easy ways to reduce waste
There are a number of easy ways to reduce the amount of waste we are producing. Recycle for Scotland have four good tips for reducing waste, they are:
Avoid wasting food
Each year in Britain £12.5 billion worth of food is thrown away. This works out at £60 per month per household. Some easy ways to reduce food waste are:
Plan out the meals that you are going to eat that week. This means that you only buy the food that you are going to use.
Only buy food on special offer that you are going to use. It is very easy to be tempted by a bargain, but if you do not use it (like when one of my friends did when she was tempted by the bargains that she got when buying cheese and onions, when she did not actually like cheese or onions) then you have not got a bargain in the end.
Think before you shop
Take reusable shopping bags when you go shopping.
I have what I call a bag of bags. This is the bag where I keep my shopping bags and is now part of my routine that when I go out to the shops – I pick this up. This stops me from needing to buy carrier bags from shops. They are also much stronger than plastic carrier bags so I also have the advantage of them not breaking.
When shopping do your best to choose something that can be reused, for example rechargeable batteries instead of disposable. And make sure you're buying something you actually need!
Stop unwanted mail
Reduce paper waste by ensuring that any unwanted mail is stopped from being sent. For stopping unwanted mail, contact the Mail Preference Service and Royal Mail.
Also with existing bills, there may be a way to go paperless – check with your supplier.
Your rubbish is someone else's treasure
When clearing out things that you no longer need or use, there can still be a use for items after you no longer have a need for them. You can pass them onto friends and family, Freecycle them or give them to a local charity shop. If you have clothing that is well worn,  you can also put them in a bag for recycling (there are many collection points requesting clothing for recycling).
You could also take old clothing and try upcycling. Your favourite t-shirts couls be cut up and turned into many new items, such as a patchwork quilt, cushions, shopping bags etc. Thankfully with the Internet it is now very easy to find ideas and tips of what you can make.
Recycle
To reduce waste going into landfill, make the most of the buckets that are on our own doorsteps.
I have noticed that even though there are good recycling opportunities now available, I have seen plastic bottles in landfill bins that are overflowing. And while some think the amount of bins we have now take up a lot of space, it is great that there are opportunities to recycle on our own doorstep. It just takes seconds to separate into the appropriate bin.
There are also many local recycling facilities which deal with glass bottles and jars (Travelling to them also provides an opportunity to get some exercise and work towards your recommended daily 10k steps)
You do not have to do a lot to make a difference, nor does it have to be time consuming.
Greener Kirkcaldy regularly host events to give you the skills and opportunities to reduce, reuse and repair as part of their Too Good to Waste project. See their events page or sign up to their monthly newsletter for computer and bike fix-it events and maintenance classes, sewing, repair and upcycling classes, food waste workshops and Love Your Clothes events.
|