Dunnikier Park Edible Landscape Work Day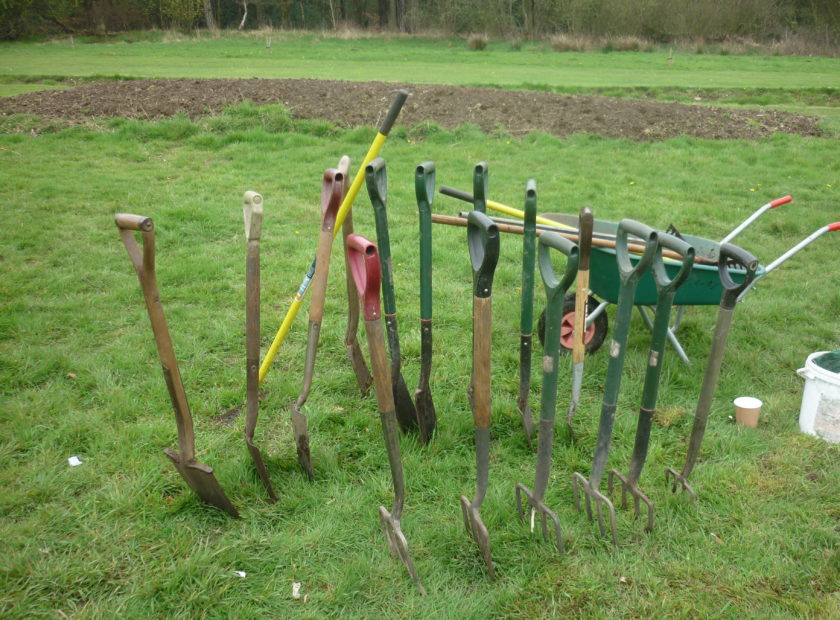 This is a project to bring the community together by making an edible landscape in Dunnikier Park (think the title gave that away). Volunteers were gathered together to plant the trees in February so Saturday 26th April was the next step in the process – Mulching.
So what is Mulching?
Basically it is preparing the ground for the best growing conditions for the trees. It conserves moisture, improves the fertility and health of the soil, reduces weed growth and enhances the visual appeal of the area.
What we did
We had gathered together cardboard boxes from local shops which were layed down on the grass surrounding the trees and dug in round the edges. The cardboard was overlapped so there was no chance of wind lifting up the edges.
The smelly part – Laying the manure
Actually I've got a really bad sense of smell so couldn't tell if it was smelly or not! We tipped the wheelbarrows of manure on the cardboard and raked out evenly to about 3cm thick to cover the whole area. The kids from the Beavers and Scouts really enjoyed tipping the wheelbarrows. Its always great to see the kids getting involved and enjoying themselves. They've got such enthusiasm!
The final step was to cover the manure with woodchip. Again we tipped the wheelbarrows onto the manure covered area to give a top layer of about 1.5cm thick of woodchip. After this was complete the area was checked to see all parts had been covered and trees were all surrounded.
We managed to get one section complete on Saturday so further sessions will be arranged to complete the other two sections. So keep an eye on your emails and the Greener Kirkcaldy website for details on when these are. Come along and give us a hand. I definitely burnt more calories than I would have at the gym.
Here's some of our volunteers that came along including me with my very fashionable tartan wellies (maybe not!)