Community Empowerment Minister visits Greener Kirkcaldy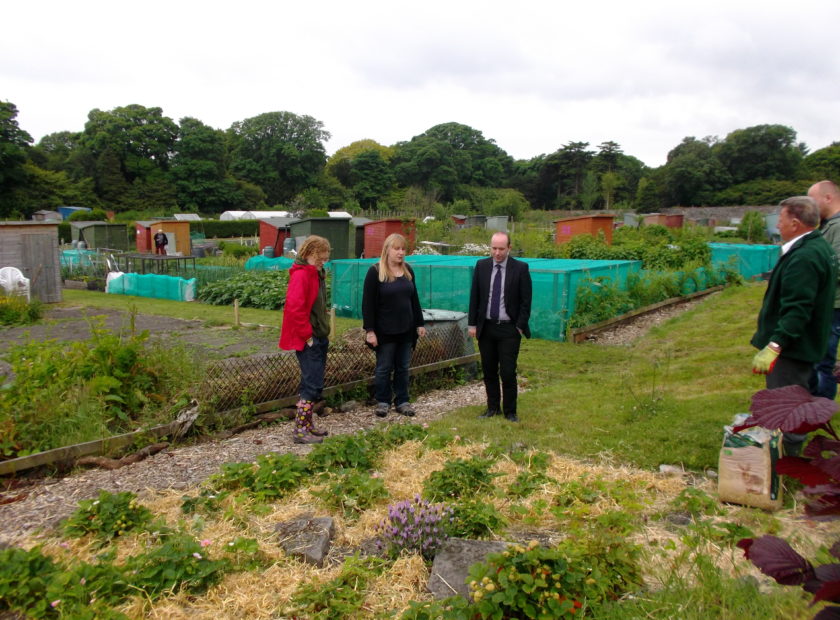 Yesterday 25 June, Greener Kirkcaldy were delighted to welcome the Scottish Government's Community Empowerment Minister, Marco Biagi on a visit to our office and our community orchard at Ravenscraig Walled Garden. We recently received funding from the People and Communities Fund to increase our work with local communities. This funding will support two projects – Living Well on a Budget: offering basic food prep and cooking courses, benefit and tax credit checks and other opportunities; and Food Works! offering food and horticultural training for people who are currently unemployed. Both projects will support individuals to learn new skills, grow their confidence, be more resilient in addressing their food and fuel bills, and increase their involvement in developing community resources that benefit everyone.
After meeting and talking to staff and board members at our office, the Minister dropped along to one of our volunteering sessions at Ravenscraig Walled Garden. He was given a tour of our training allotment and the community orchard by staff and volunteers. Our crops are really starting to flourish at the moment, so there was plenty to see and discuss from community gardening, green spaces, community and volunteer involvement, to skills development and sharing learning between generations. Volunteers also emphasised the importance of the social benefits gained from being involved, especially for people new to the area, others wanting to meet new people with similar interests or wanting to get and about by doing something with others to help in the community.
We are really pleased we were chosen along with other projects in Fife to host a visit from Mr Biagi. It's a real boost for our work and let's us know that what we are trying to do will and is making a difference.
|