Climate Week – Be part of it!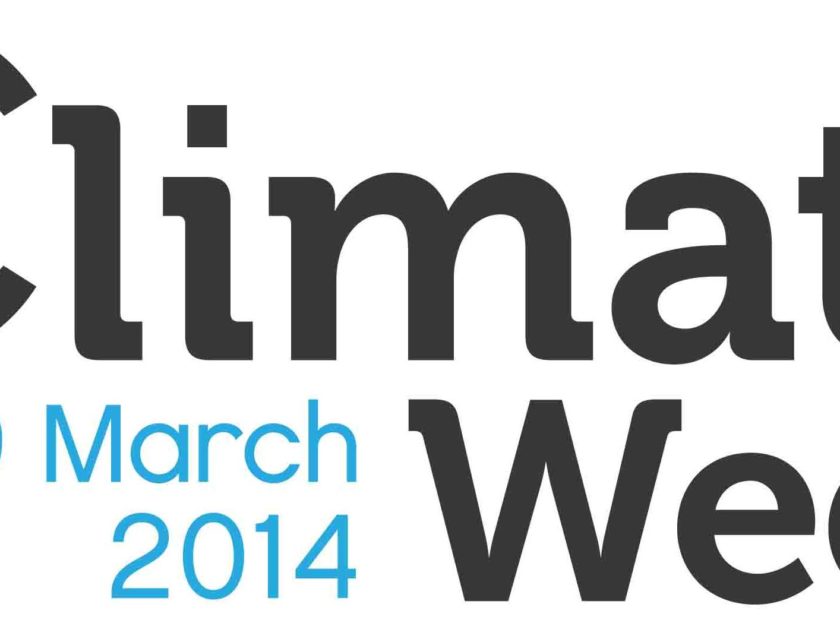 The 3rd – 9th March 2014 is Climate Week so I thought I'd take this opportunity to talk about why Greener Kirkcaldy do what they do.
We've all heard about climate change. This topic has been splashed across the news hundreds of times – most recently in regards to this winter's storms in the UK. The recent storms have captivated our attention. They've caused widespread flooding and extensive coastal damage – damaging property, ruining farmland, wrecking infrastructure and disrupting lives in the south of England. Scientists describe this series of winter storms as exceptional in duration, and it is thought that this December – January period has been the wettest since UK records began.
A Global Pattern
While the variable UK climate means that we cannot confirm that one season's storms can be attributed to climate change, a dramatic increase in extreme weather events has been witnessed around the world since 1980 and recent UK weather forms part of an international pattern of extreme weather. The storms coincided with exceptionally cold weather in the USA and Canada, and temperatures sank as low as -31oc in Russia, whilst 2013 was Australia's hottest year on record. Similarly, record amounts of rainfall in Brazil led to severe floods and landslides and Argentina experienced one of its worst heatwaves. The Guardian have produced a detailed interactive map of January 2014's extreme weather events across the world.
A Warming World?
These events are all consistent with the consequences of a warming world:
Warmer air holds more moisture = more frequent, and heavier rain;

Melting snow and ice = rising sea levels (During the last century, the English Channel has risen by around 12cm, and is continuing to rise at a rate of 1.3cm per decade!) = greater chance of storm surges breaching coastal defences.
There is a general consensus amongst scientists that warmer global temperatures will mean more extreme weather. This means that the UK is due to get warmer and wetter winters, and increasingly heavier and more intense storms. And this isn't just limited to the south of England – many of you will remember the flash flooding in April 2010 which caused tens of thousands of pounds worth of damage and caused havoc in Kirkcaldy and the surrounding area.
How Greener Kirkcaldy Fit In
Regardless of whether we attribute the recent flooding to climate change or just to variable UK weather, it is clear that we need to do more to cope with its devastating effects, because it looks like it's going to become more common. As well as relying on the government to provide flood defences, early warning systems and emergency responses, as a community and individuals there are things we can do to start to tackle the route cause – long term climate change caused by greenhouse gas emissions.
This is where Greener Kirkcaldy come in. Through their various projects and activities, Greener Kirkcaldy are striving to strengthen the local community by helping us to live greener, more sustainable, low carbon lives helping to reduce global emissions.  Through Greener Kirkcaldy we can:
Be more energy efficient – by saving energy and powering our own homes we can reduce our reliance on imported (and dwindling) energy reserves and are able to put more money into the local economy.
Grow our own food and be able to cook with local, seasonal food – this makes us more adaptable to changes in the foods that are available, as well as reducing our food miles;
Build community cohesiveness and spirit – by increasing community participation and working together we can support each other and we are much stronger as a group!!
The last of these points – stronger communities is perhaps the most important.  It makes us less vulnerable and increases our ability to respond to extreme weather events. This is known as resilience – the more resilient we are, the more able we are to bounce back. Increasing our resilience is crucial to dealing with anticipated changes in our climate.
Get Involved
If you want to work towards being greener, we're here to help. See the website, give us a call or email, or drop in to the GK Advice Centre on Kirkcaldy High Street (Friday or Saturday, 10am – 4pm). Check out the Climate Week website for more information on how you can help tackle climate change.
For more information:
Committee on Climate Change Website.
Climate change and the UK floods.
http://www.theccc.org.uk/blog/climate-change-and-the-uk-floods/
Fife Today Website. Kirkcaldy mops up after worst storm in 15 years.
http://www.fifetoday.co.uk/news/local-headlines/kirkcaldy-mops-up-after-worst-storm-in-15-years-1-162944
Financial Times Website. Britain needs a strategy for floods. 
http://www.ft.com/cms/s/0/75e78efc-8ffc-11e3-8029-00144feab7de.html#ixzz2uXPbEBHL
MET Office Website. A Global Perspective on the Recent Storms and Floods in the UK.  
http://www.metoffice.gov.uk/research/news/2014/uk-storms-and-floods
The Guardian Website. Flooding and storms in UK are clear signs of climate change, says Lord Stern. 
http://www.theguardian.com/environment/2014/feb/13/flooding-storms-uk-climate-change-lord-stern
Transition Town Totnes Website. What is resilience?
http://www.transitiontowntotnes.org/about/what-is-transition/what-is-resilience/
|