August at Ravenscraig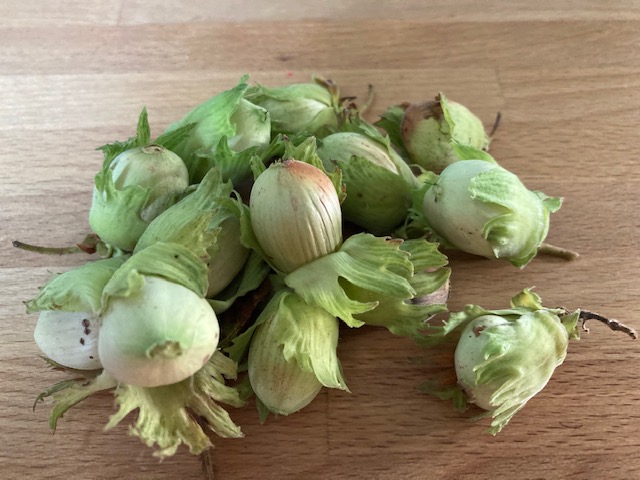 Our Sessional Worker Jackie talks about what went on in August at Ravenscraig Walled Garden and shares a new recipe in her latest blog.
As we move through the summer, we've had a range of different types of weather. August has been cooler and wetter than July but now at the end of the month, the temperature has risen again.  This will hopefully extend the season for some of our crops and allow our tomatoes to ripen in the polytunnel.
The apples in our orchard are just beginning to ripen and are starting to fall off the trees. Some of the varieties turn a beautiful bright red on the side that faces the sun (Discovery, Sunset, Red Devil) and this creates vibrant colour in the orchard. We have a small nuttery at the east side of the plot with a few different varieties of cobnut, including Red Cracker which is also a lovely dark red colour. We picked a load of the nuts recently and have laid them out in the Cabin to dry so we can store them. In previous years the squirrels have eaten the lot, so we were keen to get in before they did this year! We've left plenty for them too though.
Harvesting has continued throughout August with our first potatoes (earlies), courgettes, French beans (recipe below), and carrots. The shallots and garlic that we harvested last month are drying nicely and will store well over the next few months. Our volunteers have been taking plenty of veg home to cook and we're encouraging everyone to try something new. We're still harvesting some soft fruit including blueberries, raspberries, red and white currants, and Japanese wineberries (which are delicious).
Our recent jam making workshop was a great success, we picked fruit from the plot and cooked it outdoors. The sun shone, the group had fun and we created some tasty jam to take home. It's a great way to preserve fruit and I'd recommend giving it a go. You can use homegrown fruit or try foraging for some brambles – they're ready now. We've got more workshops happening at Ravenscraig over the next few months, check our website for more information.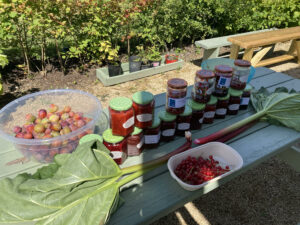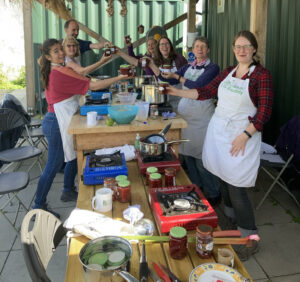 Our French bean harvest has been good this year. We usually grow both climbing and dwarf varieties so that we get a good supply. We have a purple variety this year, which is growing really well, but disappointingly the beans turn green when cooked (still taste great though!). This month's recipe is for these long, slim green beans and takes inspiration from the Mediterranean where you can find variations of this in several countries. It's best served at room temperature, alongside some feta cheese and toasted pitta bread for dipping.
Greek-style green beans (Fasolakia lathera)
4 tablespoons olive oil
1 large onion, finely chopped
2 garlic cloves, finely chopped
I tsp ground cumin
2 tsp dried oregano
1 tin chopped tomatoes
1 cup water
500-600g French green beans, trimmed and cut into 3-4cm lengths
3 med potatoes, peeled and cut into small pieces
Salt and pepper
Lemon juice
Fresh parsley to garnish
In a large pan, warm the olive oil over a gentle heat. Add the onions and cook until tender but not browned (about 10 minutes). Then add the garlic, cumin and oregano and cook for another 2 minutes, stirring often.
Add the tomatoes, water, beans, and potatoes. Season well with salt and pepper.
Raise the heat and bring to a high simmer for 15 minutes, stirring occasionally to make sure it's not sticking to the bottom of the pan (if it does, you can add a little more water).
Turn the heat down again and cook slowly until the sauce thickens and the beans and potatoes are soft. This will be around 30 minutes. Keep checking that it's not sticking and add a little water if needed.
Stir in a squeeze of lemon juice and sprinkle with parsley before serving.
|