Apple Day 2015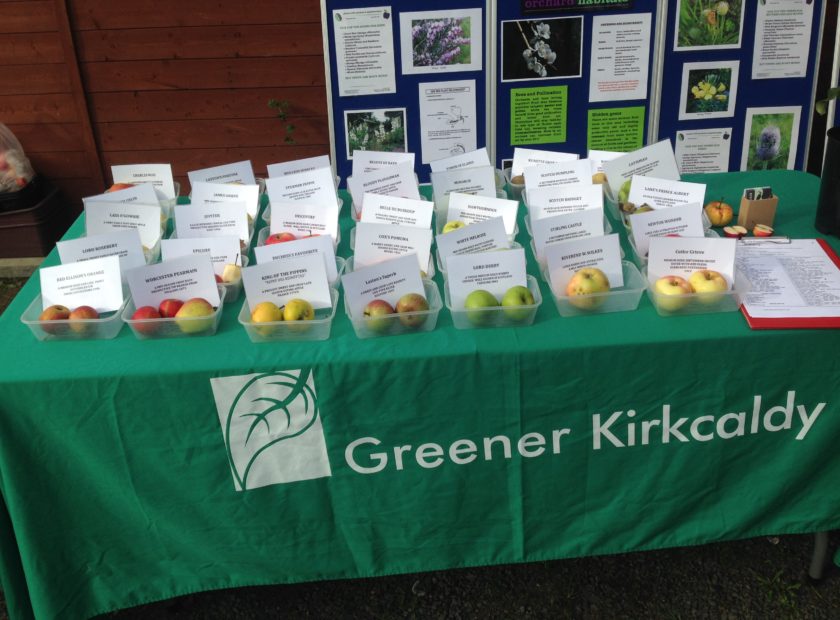 On Saturday 17th October we hosted our annual Apple Day at Ravenscraig Walled Garden. Thank you to everyone who came along and to all who contributed to making a good day. Media volunteers Steven and Ross both came along – here are some of their thoughts and photos from the day.
Steven's blog
It was a cloudy day with a slight breeze and the sun making a brief appearance. But the slight chill in the air didn't put off people from attending, which we thank them for. One of our main activities on Apple Day was to make Apple Juice.
As a big fan of apple juice myself, I have to say that the apple juice we made was probably the best I have tasted – better than any apple juice I have purchased from the supermarket, which is a lot. With this being my first year attending this event, it was good to see the process of making your own juice.
The Appletreeman, Andrew Lear was on hand once again to give his expert insight on how to grow your own apple trees and also gave some valuable advice and answered all the questions that were thrown at him. He also gave a tour of the orchard giving some insight into each of the trees that were planted.
The amount of apples on display was huge. The apples that caught my eye the most included the Stirling Castle, the Newton Wonder, the White Pelrose, the Stumper Pippon, the Epicure, the Jupiter and the Charles Rose. I could have written down a few more but then my hand was started to get sore!!
Ross's blog
Both the volunteers and the visitors had the chance to make fresh apple juice using the apples grown in the orchard, as well as, eating some delicious apple cake. The apples were chopped and  placed in the apple scratter, the handle was then turned so the apples were crushed into smaller pieces. Then the pieces were transferred into the press and the handle was turned, so filling a jug with the tasty apple juice.
There was a very interesting tour of the orchard, on which we learned about how the pear was introduced to Scotland by monks, with great expertise in their cultivation. Andrew Lear was also able to answer lots of questions about the care for trees and how to tell the difference between different fruit trees by their foliage and other characteristic such as height. It was interesting to learn about the Cobnut trees and how there are male and female trees. Importantly, he informed us about the different diseases that can affect trees and the ways in which the impact of these can be reduced. It was also good to learn more about the local varieties of apple such as the Lady of the Wemyss. It really is vital that we cherish our local varieties of apple and other heritage fruits.
|