The mysteries of nature
Here is another story from Cap and Kay who are Gardening and Growing volunteers.
TREES have grown into my life in recent years, starting as an urban
tree warden in Yorkshire to learning apple tree management
in the Walled Garden.
     They widen horizons in this most constricted of times and present,
as always, puzzles that need answers . . . what is that tree, does it
have a disease, why is it lopsided and on and on.
     The Ravenscraig Park sycamores opposite my front window throw
up a thick canopy that can block light for those below, but the struggle
for survival goes on.
    A young sessile oak and its nearby neighbour, an equally young
ash look good, but for how longer?  Did they self seed?  Maybe they
just shouldn't be there at all and should be taken out, or just left to their
own fates and become shrubby trees.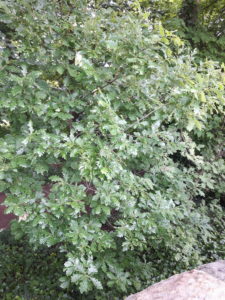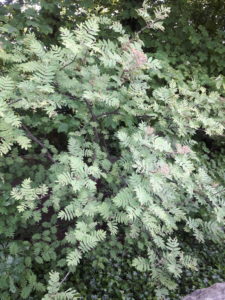 From green in the sky to grey and more puzzles. The dark slate-grey
back of the Lesser Black-backed Gull has replaced the lighter grey
Herring Gull as the dominant gull swooping for anything it can find
in the gardens of Dysart Road.
     Where have the Herrings gone and does this mean a population drop,
as is happening to the offshore population, or disease, or shifts to a
convenient rubbish tip?  And these might not even be the right questions
     Next a grey/brown moth entered my life not long ago.  It had decided
to have a bath, or at least that's where I found  it.  Fortunately there was
no water and the visitor was put safely in a plastic tub for further examination.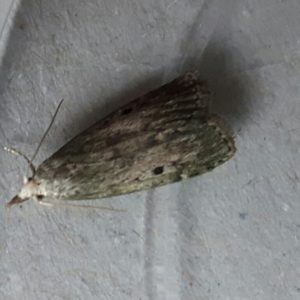 I was spoiled for choice with over 2500 moths to ponder, but Kay quickly
found a lookalike in Wikipedia which had the right range.  A Common Pug seemed
to fit but itself had many lookalikes.  Oh dear, oh dear and only 2500 or so to go!
     But the most beautiful connection between humans and the natural
world came from a video released in June through a charity for bi-polar
children – and there was no mystery about it.
     A dolphin swam into view seeming to ask for help from a diver.  And
she needed it, there was a hook and line caught in her fin.  The dolphin
remained upright for the diver to gently take the hook out and untangle the
line.  Man and animal separated, the man waved and the dolphin
swam slowly away.  Brillant!
|