A background to the Kirkcaldy Re-use and Repair guide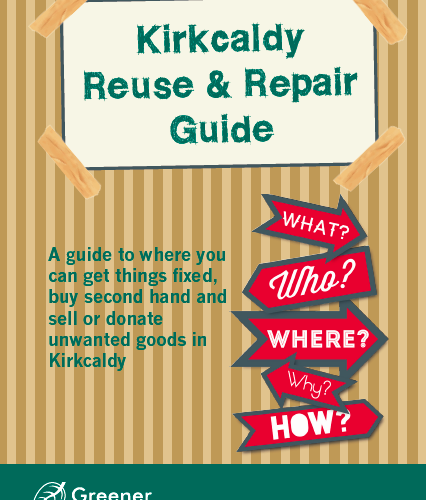 This year Greener Kirkcaldy published its first edition of the Kirkcaldy Reuse and Repair guide, compiled with research help from volunteers.
The guide helps you find places where you can get things fixed, buy second hand, sell or donate in Kirkcaldy. In Fife, the recycling rate is approximately 56%, but the overall amount of waste we dispose is still very high and many of the things we throw away or send to recycling centres are still usable. In 2015 Fife recycled 52% and diverted 57% of its household waste from landfill. This means that Fife is still one of the best performing councils for recycling in Scotland. Scotland however has a challenging recycling target of 70% by 2025 (Fifedirect)
If you are not sure what goes where when it comes to recycling, Fife council has a very extensive list on their website here.
However, whenever something is broken, don't just throw it away. You could try to get it fixed, reuse parts of it yourself or sell it to someone else who can/will. If you are looking for something new, try a second hand store first. There is a stigma on second hand stores that they are only for 'needy people' this is absolutely not true! Second hand stores are open to anyone and most items are of a good quality, you could pick up a real bargain!
The Reuse and Repair Guide is part of the Too Good To Waste project, working with the local community to reduce waste by reducing, reusing and repairing. Greener Kirkcaldy want to show people that this is easy, and can make a big difference in Kirkcaldy, as well as the rest of the world.
With this project there is a series of activities and workshops to get everyone in the community involved, picking up tips and new skills:
Bike Fix-it Drop-ins and maintenance classes
Computer Fix – it Drop-ins and maintenance classes (next fix-it is Saturday 3rd September, maintenance classes start again in November)
Sew and Repair classes and upcycling workshops (next upcycling workshop is Monday 24th October – all about Halloween)
Swap events
A 'Greener Christmas Fair'
The guide offers you a good range of places you can go to reuse and reduce, repair and recycle. It is however by no means conclusive and Greener Kirkcaldy hope to update it on a regular basis. If you come across any businesses or organisations in Kirkcaldy that you feel should be included, or if you have an item not mentioned that you would like to see in this guide, please get in touch by emailing info@greenerkirkcaldy.org.uk.
Click below to view the guide online or get your own paper copy at the Greener Kirkcaldy shop.
|