We're open!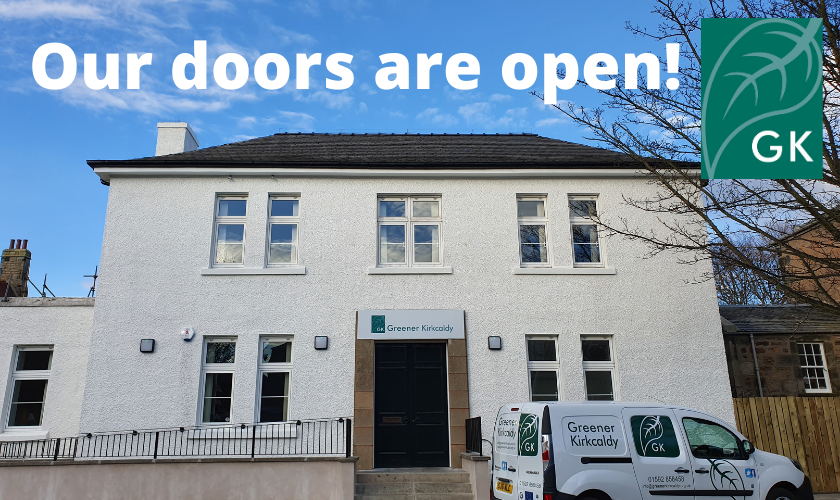 With the easing of Government restrictions this month, we're excited to say our building at East Fergus Place is now open to the public again!
Covid-19 has meant a very different year for us at Greener Kirkcaldy. Last March, we closed our doors and move the majority of our staff to working from home. However, this didn't stop our amazing staff and volunteers, who have worked hard to keep our activities running, adapt our services and support our community over the last year.
Our Community Food team made almost 11,000 meals for people in Kirkcaldy needing support accessing food and our energy advisors supported 2,500 households to manage their bills and stay warm
We opened our Lang Toun Larder Community Pantry in August and now have over 50 members
In October, we launched an exciting new Fife-wide partnership project – Climate Action Fife
We opened our Lang Toun Cycles Community Bike Shop on Kirkcaldy High Street in November, repairing or servicing almost 400 bikes since then
We ran a range of innovative and exciting activities, including our popular cycle rides and online events such as film nights, family sessions and our online Walking Festivals, Cycling Festival and Car Free Week
8,000 people took part our projects, services and events
But, as a community building, we've been counting down the days until we can welcome people back in person!
Opening times
Our building is open the following days/times:
Monday: 9.30am – 4.30pm
Tuesday: 9.30am – 4.30pm
Wednesday: 12pm – 4.30pm
Thursday: 9.30am – 4.30pm
Friday: 9.30am – 4.30pm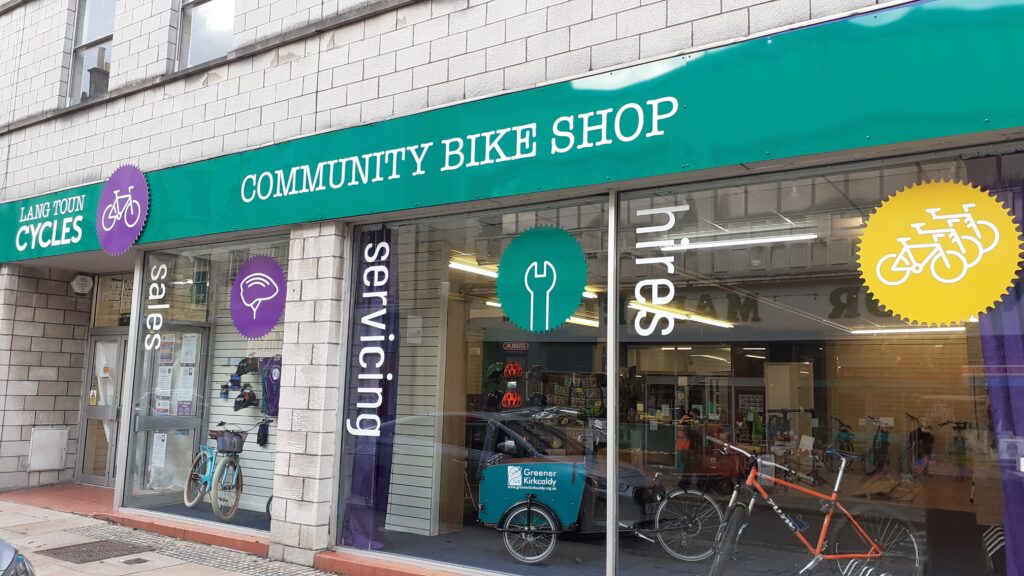 Lang Toun Cycles
Lang Toun Cycles will also open to walk-ins (as well as appointments) from Tuesday 18th May.
Our new opening hours will be:
Monday: Closed
Tuesday: 10am – 5pm
Wednesday: Closed
Thursday: 10am – 5pm
Friday: 10am – 5pm
Saturday: 10am – 5pm
Sunday: Closed
We ask all customers to wait in the entrance area, respecting 2-metre distancing and wearing face coverings, until we can serve you. Customers with appointments will be given priority. To make an appointment, please email: info@langtouncycle.org.uk or phone: 01592 328920.
What to expect
Please be assured that the health and safety of all staff, volunteers and the public are at the heart of everything we do – our staff and volunteers have been working very hard to make sure we have all the necessary policies and procedures in place so that you can be confident visiting us.
Our event space and kitchens are now available to hire again – see our room hire pages for more information. We're also starting up our face-to-face events and activities again (as well as continuing some of our popular online events) – see our events page for upcoming dates and keep an eye on our news page, social media (Facebook, Twitter and Instagram) and e-newsletter for updates.
We look forward to seeing you in our building, bike shop or at one of our events soon!
|