Volunteers creating a new space for nature in Kirkcaldy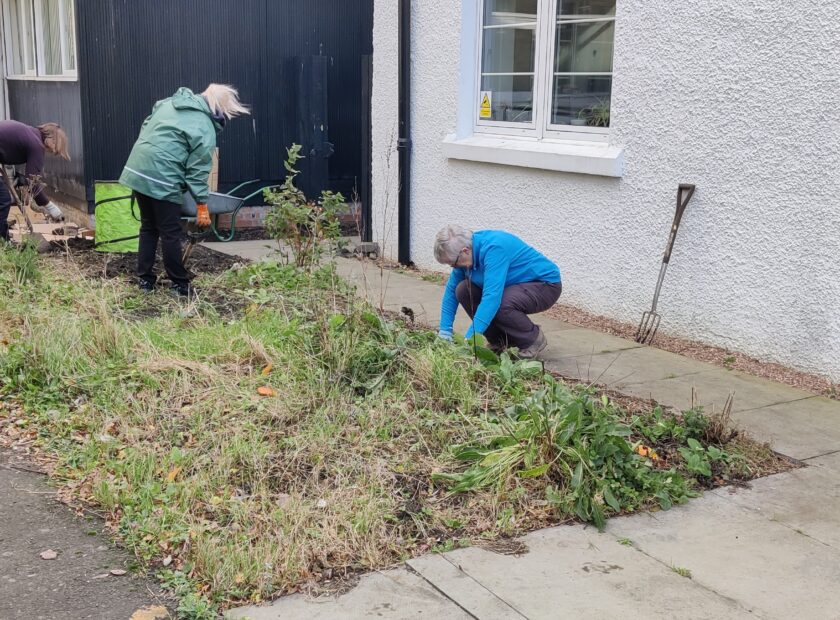 We are transforming a small area of disused land on East Fergus Place between our community building and New Volunteer House to create the East Fergus Parklet.
Greener Kirkcaldy volunteers are working on the parklet over the winter and it will come into full bloom in summer 2023.
Some of the features set to be included are wildflower areas, a bug hotel and even a small pond. One of our volunteers has created a stunning visual impression of what the area should look like (image of drawing below). The parklet will provide a home for wildlife including a bug hotel, small pond and wildflower and grass area.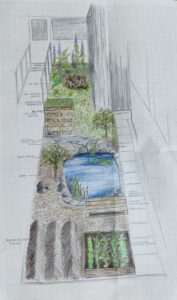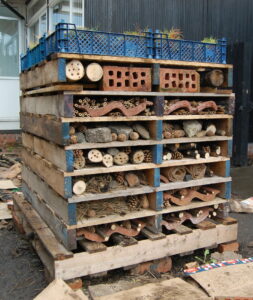 Carol Sidey, Project Manager for Greener Kirkcaldy's Outdoor Projects Team is coordinating the Parklet project and is excited to see everything take shape. She said:
"Volunteering Matters' Action Earth grants help groups of volunteers take practical action to create places for wildlife. Over the winter our volunteers will change a small disused piece of land into an area of interesting habitats for local wildlife. People visiting the offices or passing by will be able to enjoy the new space and get inspiration for their own outdoor spaces"
The East Fergus Parklet project is part of the Volunteering Matters' Action Earth campaign which wants to help local communities respond to climate change. In Scotland we need to change how we view and use the world around us. A nature-rich future is our best response.
Action Earth will be supporting around 140 projects in Scotland in 2022 with grant awards of up to £500. These grants are aimed at groups who support and encourage volunteer activity through practical environmental projects for people of all ages, backgrounds and abilities.  Grant funding for the campaign is provided by NatureScot.
Greener Kirkcaldy have also had support from Fife Voluntary Action. They own New Volunteer House and the land on which the project will take place. Chief Executive of Fife Voluntary Action Kenny Murphy said:
"Fife Voluntary Action is delighted to be supporting Greener Kirkcaldy's project under the Action Earth campaign through Volunteering Matters. We're always looking for beneficial ways of helping to play our part in tackling the climate emergency. Combining this important cause with great, practical opportunities for volunteers is a win-win-win for volunteers, communities and the climate."
If you are keen to learn new skills, improve your local environment and have fun at the same time, get in touch with Greener Kirkcaldy. You can email info@greenerkirkcaldy.org.uk or call 01592 858458.
If you think you might have your own great idea for a project register with Volunteering Matters' Action Earth team at www.volunteeringmatters.org.uk/actionearth
|