Turn your favourite book into a clock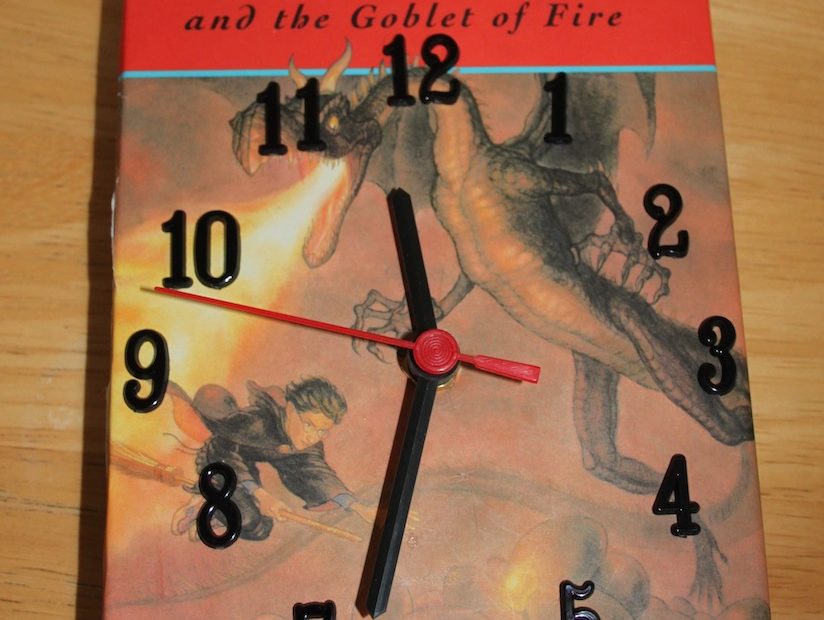 Got a favourite book that you've read so much that the pages are falling out and the cover is coming off? Not good enough to give away… How about turning it into an original clock to brighten up your house?
Not only is this a great way to upcycle your old books (and reduce the hoard of battered books stacking up in your spare room without throwing them away), but they make quirky, cheap and easy presents for your friends and family. A storybook for a child's bedroom or a cookbook for the kitchen… there's a book out there for everyone. For me, it had to be my favourite (yet falling apart) Harry Potter book.
What you'll need:
A hardback book – Needs to be a relatively simple cover with not very much text so the clock will stand out and needs to be big enough for the clock hands to fit on.

A clock mechanism set – I bought one from Ebay for less than £5 (you could also reuse a mechanism from an old unwanted clock). Note: Clock mechanisms have varying hand and spindle lengths – measure the size and thickness of your book before buying.
Numbers – Again, I bought mine from Ebay, but you could use other items from around your home to mark the time (e.g. buttons).
A ruler or straight edge.
A drill.
Glue.
Simple Steps (for a wall mounted clock):
Taken from: http://www.instructables.com/id/Literary-Clock/
Prepare book – This depends on the thickness of the book. If the book's thickness matches the length of the clock spindle then you will be able to use the book as it is. My book was very thick so I removed the cover, cut the spine out and then glued the front and back covers together.
Mark the centre of the book by going corner to corner with a ruler (or mark where you want the centre of the clock hands to be, if off centre).
Drill a hole in the marked spot. I chose a 6mm drill bit by comparing this with the clock spindle (but you're best following the instructions that came with the clock set).
Assemble the clock (follow the instructions that came with the clock set) – I stuck the clock back on the back cover of the book.
Stick on the numbers using the longest hand as a guide. I bought self-adhesive numbers – but you may need glue.
Tips:
Instead of just using the cover, create a freestanding clock by leaving the pages and cutting a space for the mechanism inside the book.
Save some of the pages with artwork to frame as a picture to compliment your clock.
Here are some other ideas for reusing old books:
More unwanted books?
Or DVDs or CDs? Why not swap them for something new at our Swap Shop – every Friday and Saturday 10am – 4pm, at the Advice Centre, 254a High Street.
|