The Spring Cycle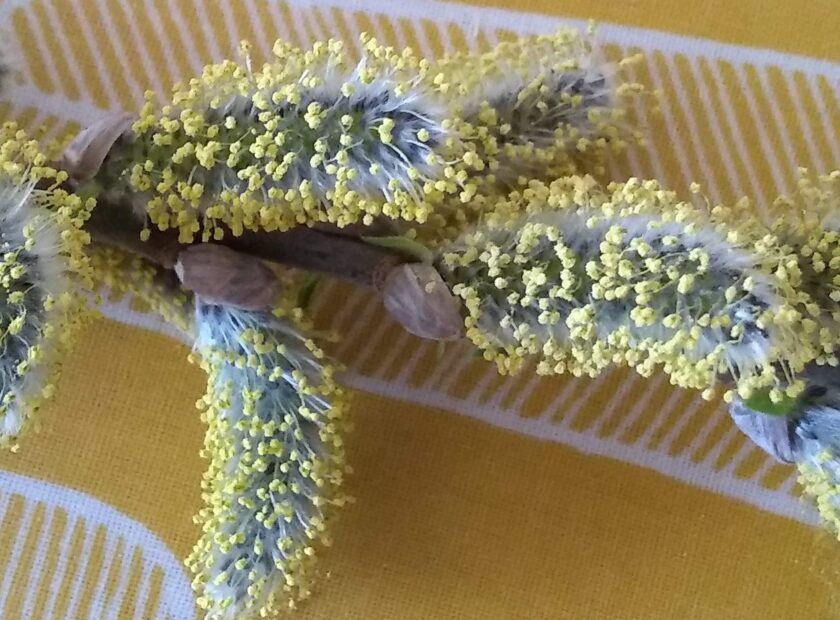 Community Food Volunteer, Amanda G: "I have seen pussy willow open. I also spotted a bee in a crocus covered in pollen. We also have a fieldfare visiting the garden eating the orange berries. It's very territorial and chases other birds away.
A friend took part in the RSPB bird count. Initially only 1 wren was counted but then she counted 13 over the course of 3 days. She found them in one room of her house. Apparently in winter wrens huddle together in a sheltered nook or hole to keep warm.  She discovered that they were getting in under the eaves at a security alarm box and couldn't get out again.  She released the birds and blocked the hole. So you never know when you think there is only one bird, there could be many more!"
Community Volunteer, Debbie: "My encounters with nature have been more close up than I would've chosen this past fortnight:  with not only one, but two, separate visits from young crows down my chimney! I have a working open fireplace in my living room,  I burn wood in it. Thankfully for the birds, I'd heard their descent down the chimney over a few days (small flakes of soot raining down and a muffled sound of movement) before they popped out in the fireplace – so I hadn't lit any fires! The ensuing calamity of a large, wild, black bird flapping around my small living room had me both in a state of panic and uncontrollable laughter. It briefly landed on various spots including perching on a branch of my tall rubber plant, which I had never previously considered as a tree.
Thankfully for the birds (and me) they were both uninjured and flew out from my front door with great zest. Needless to say, I've arranged to have a guard put across the chimney to prevent future reoccurrences!
Outside, the new shoots piercing through the soil are bringing me great joy.  My front garden is a lovely wee spring garden, with snowdrops in full blossom whilst the other flowers (daffodils/tulips/hyacinths/crocuses) prepare for flowering with their green stalks and leaves. It's an exciting time – on the cusp of the garden bursting into colour and life.  It's always a very hopeful time, spring."
Here is also a selection of photos taken by volunteers.
|