The importance of re-using, repairing and upcycling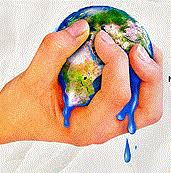 There is not an infinite supply of natural resources on the earth to maintain current consumer demand and between 60% and 80% of negative environmental impact is caused by household consumption. Companies supply products according to consumer demand, and, for every new product we buy, suppliers will keep producing more. This is depleting the earth's valuable resources such as oil, forests and water supplies.
Wildlife is endangered when habitats are cleared to use the trees, or polluted by the hazardous waste disposed from factories into the water. Plastic waste is damaging our oceans and, with about 46,000 pieces of plastic in every square mile of ocean, more than 40 species of fish are consuming plastic.
Carbon dioxide emissions from manufacturing products are also contributing to climate change, which can have disastrous effects on the earth, including sea levels rising and ecosystems changing.
Oil is used to make plastic, and the following facts put the impact of our plastic consumption into perspective:
Each household in the UK throws out approximately 40 kg of plastic a year
In the UK, 13 billion plastic carrier bags and 35.8 million plastic bottles are used each year
16 million plastic bottles do not reach recycling facilities
It takes 0.48 megajoules of energy from oil to make one plastic bag – an average car uses 6.7 megajoules of energy from oil to drive one mile which is equal to 14 plastic bags per mile driven!
For every 5 plastic bags made, 1 kg of carbon dioxide is emitted into the atmosphere
Plastic bags take around 1000 years to decompose!
For more statistics and further information visit these websites:
https://timeforchange.org/plastic-bags-and-plastic-bottles-CO2-emissions
https://www.seeker.com/how-much-oil-is-left-on-earth-1792718444.html
Reusing and upcycling gives value to household items that would otherwise be entering the waste process, contributing to air, land and water pollution. For example, electronic waste, such as televisions, computers and other appliances, emit toxic substances such as mercury, lead and arsenic which leach into surrounding soil. It is worth considering that although recycling helps the waste problem, energy and water are used during the process and harsh chemicals are used to break down metals so reusing and upcycling are much better alternatives.
Repairing instead of replacing reduces the demand for new goods and can also create demand for specific skills. This can lead to reuse centres boosting the local economy by providing training and jobs. Additionally, people selling on repaired and second hand items provides people with a cheaper alternative to buying new, more expensive items.
If each of us begins to make changes within our homes and lives collectively we can have a positive impact on our environment and communities.
|