Summer Veg Cooking Workshop – Recipes!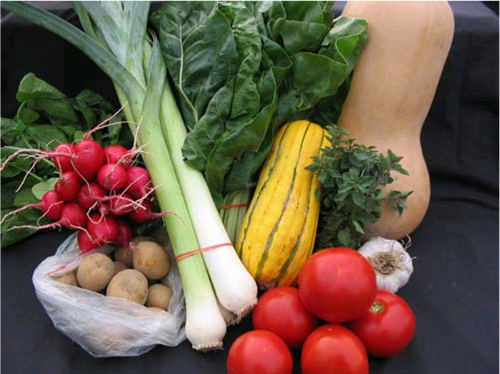 by Russell
On Tuesday we hosted our first cookery workshop.  It was a gorgeous hot day and 8 folk turned up for an evening of cooking, discussion and eating.  Louise Oliver, veggie cook extraordinaire, led the practical parts of the session (i.e. the fun bit) whilst I did a quick talk at the beginning about why seasonal, local food is good for the environment, for your health, for your wallet and for your community.
Unfortunately I was having such fun and was so busy peeling broad beans that I forgot to take any photographs, so no pictures of the mouthwatering dishes here. Fortunately that means more motivation to make the dishes yourselves to see what they look, and more importantly taste, like.  Everything we made was absolutely delicious, and took us less than 45 minutes to make from scratch.
Click on the links below to download the recipes – enjoy!
courgette, quinoa and herb salad
Roasted tomato and courgette tart with a double cheese crust
|