Spotlight on Earth Hour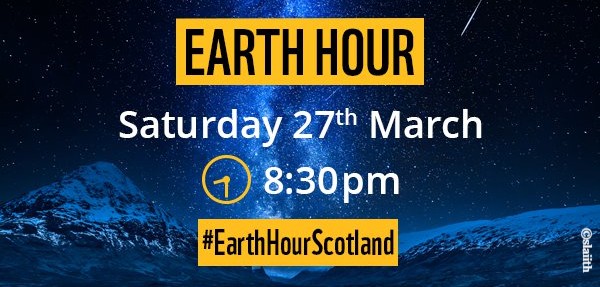 Our Media Volunteer Barbara explains what is Earth Hour and how you can get involved in her latest blog.
Saturday, March 27th, is Earth Hour, a global lights-out event which takes place every year on the last Saturday of March, and inspires millions of people across the world, to turn out their lights in support of Planet Earth.
Organised by WWF, the first Earth Hour took place in Sydney in 2007. Now Earth Hour has become one of the biggest movements in support of the environment, taking place in over 180 countries every year.  By bringing people together to raise awareness of climate change, WWF believes that Earth Hour can be a major driving force in bringing about Governmental action on the climate crisis.
How Did it all Start?
In 2007, WWF called on people across the world to switch off their lights at home, to bring public attention to the climate crisis. Since then, millions of people have been switching off their lights every year, to mark Earth Hour, throwing buildings and whole streets into darkness, to raise awareness of climate change and the need for urgent action.
Earth Hour 2021
This year's Earth Hour takes place at 8:30pm on Saturday 27th March, and in addition to turning off your lights, WWF are calling on people to participate in an Earth Hour 'Virtual Spotlight',  where WWF will be posting a very special Earth Hour video, and asking people to share it on their social media pages, to put the Spotlight on planet Earth.  Their aim is to make it the most-watched video across the world and get people talking about climate change.
There are also other ways you can get involved, including taking part in an online event or learning more about nature loss and climate change.
WWF Scotland are asking people all across Scotland to use the hour to help create the Great Scottish Canvas with them. They are asking people to paint the picture of the future they want to see, tell the story of the Scotland that we want to be.

The Great Scottish Canvas is a creative call out to the people of Scotland and will channel our hopes for a better future. We are asking Local Authorities to share this call out with employees, representatives, partners and constituents in your area and ask them to use this year's Earth Hour to paint a picture, craft a poem, doodle or write something which illustrates the future Scotland they want – a future where we tackle the climate and nature crises and create a greener, fairer future for all.
Find out how you can take part here.
Find out more about nature loss and climate change here.
|