Seasonal Roast Veggies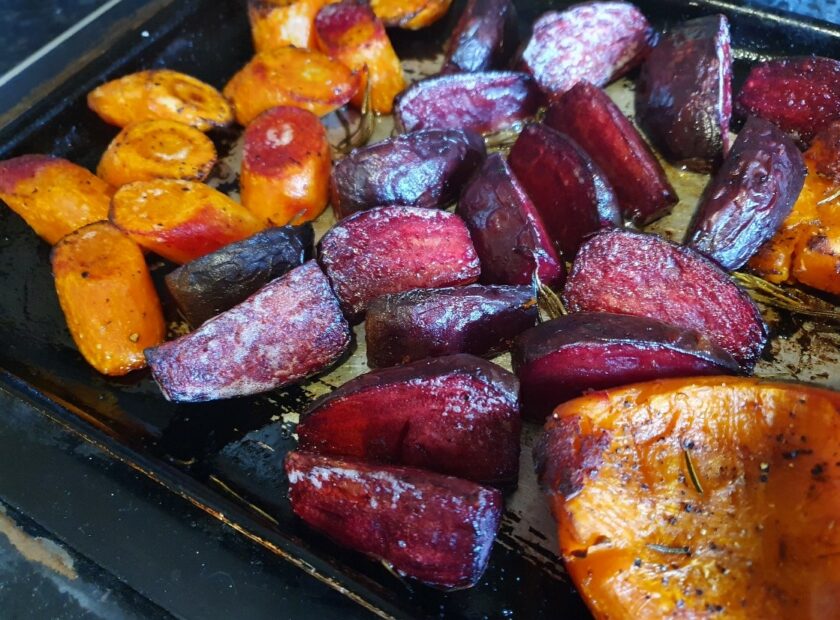 The latest of our "How To Make" recipes from Community Chef Iain is seasonal roast vegetables.
Autumn is here! Its time to start looking at all the great vegetables that are on offer locally at this time of year. Eating local and seasonal produce is a great way to reduce the carbon footprint of your shopping trolley and to do your bit to tackle the climate emergency. Check what is in season before you shop and make sure to look at food labels to see where your vegetables were produced.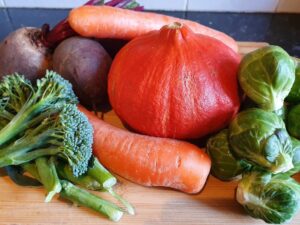 Roasting your vegetables is a great way to cook them, you can add layers of flavour to the vegetables as you are roasting. Cooking the vegetables this way really brings out the natural sweetness. If you are making a soup, a great way to boost the flavour is to roast the vegetables first.
You can roast almost any vegetables, I have chosen beetroot, carrot and pumpkin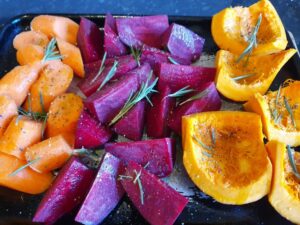 Preheat the oven to 170c
Clean the vegetables and cut into equal sized chunks and lay flat on a roasting tray. You can add herbs or spices at this stage – hard herbs like rosemary and thyme work well, as do crushed cloves of garlic or some spices like fennel seeds and chilli.
Drizzle some olive oil over the vegetables and season with salt and pepper, then place in the oven.
Every 20 minutes turn the chunks of vegetables over. Drizzle a little more oil on them if they are looking a bit dry.
When they are just about soft, turn the heat up to 200c to get some nice colour, checking every 10 minutes.
When you are happy, a good squeeze of lemon juice is great to finish them off. Use as part of a main dish, but they are so delicious you could just eat a whole plate of the vegetables on their own!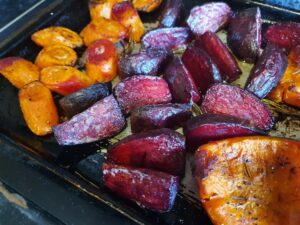 |