Ralph
TWENTY YEARS of 'hola' in Spain to plain old 'hello' in Fife is the language journey for one of the Walled Garden's new volunteers.
Retired headteacher Ralph Chambers and his wife Helen returned last December to Kirkcaldy where Helen has family and where they visited during their retirement years in Spain.
Health issues brought them back as well as the difficulties of a post-Brexit life in an EU country.  But waiting for them here was a Greener Kirkcaldy 'oasis.'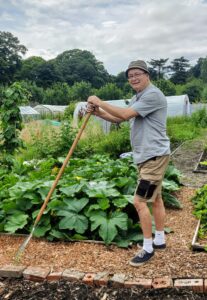 "I started coming in April and I like what Greener Kirkcaldy do," says Ralph, a lifelong gardener.   "I don't feel under any pressure to come in or not come in, to come early or come late". "It is an oasis of peace," he adds.
Peace or not, there is work to be done.  He and Helen have brought back to life six, large raised vegetable beds – weeding, re-establishing the paths, putting down the bark chipping.  It now looks fit for purpose. "You feel that you're accomplishing something and getting something out of it for yourself."
And that oasis feeling is always there.  "It certainly helps with your peace of mind," says the once-Spanish gardener (cacti in large pots) now 'translated' to the Walled Garden.
|